China will take a decisive stake in the next stage of Russia's transportation development, with Chinese companies building the country's first high-speed rail line. The agreement formed part of joint deals worth $10 billion being signed on Oct 13.
Chinese firms and their Russian partners will hold talks on design, financing, supplying facilities and construction of a 770-km high-speed line connecting Moscow and Kazan, an important metropolis on the Volga River.
This was one of 39 agreements being signed after Premier Li Keqiang and Russian Prime Minister Dmitry Medvedev met for the 19th Regular Prime Ministers' Meetings.
Under the Russian plan, the line will form the initial section of a railway stretching to Beijing, with completion scheduled for 2018 in time for the World Cup soccer finals in Russia. Kazan is one of the host cities.
Trains on the line will reach speeds of up to 400 km/h, shortening the traveling time between the two cities from 13 hours to three and a half, according to the Moscow Times newspaper.
Under other agreements being signed on Oct 13, the State Grid Corp of China will help to upgrade Russia's electricity network.
Details of the support measures, technical terms and legal protection were also settled regarding a $400 billion cooperation project to transport natural gas from Russia to China.
A currency swap agreement was signed, allowing businesspeople to make direct settlement in the renminbi and rouble to prevent losses from an easing of the US dollar.
Margarete Klein, a researcher on Eastern Europe and Eurasia at the German Institute for International and Security Affairs, a think tank in Berlin, said Moscow is willing to work hard to achieve breakthroughs in large cooperation projects with Beijing.
This is because it wants to demonstrate that Russia is not isolated and, against the backdrop of EU sanctions imposed over the conflict in Ukraine.
Yang Hao, a professor at Beijing Jiaotong University who researches rail transportation management, said China has advanced technology and valuable experience in railway construction and operations. Beijing is willing to export these, while Moscow wants to improve rail services and upgrade infrastructure.
Yang said the two countries have a track record of rail cooperation dating to the 1950s, when China introduced technology, engineers and manuals from the former Soviet Union to build its own rail network. However, cooperation was sidelined in the 1960s as relations chilled. "Now is the time to reinvigorate this cooperation, as both governments wish," Yang said.
But such cooperation must first overcome a disparity in track gauges between the two countries, Yang said.
"It will not be easy for Chinese companies to design or build Russian rail lines, because they will have to adapt to wide tracks and must make many changes to trains and equipment," Yang said.
Gauri Khandekar, a researcher at Agora Asia-Europe, a knowledge hub on EU-Asia relations in the Brussels office of FRIDE, a European think tank, said more high-tech products will be exported by China, which has made significant technological advances. Khandekar cited high-speed trains as an "impressive example".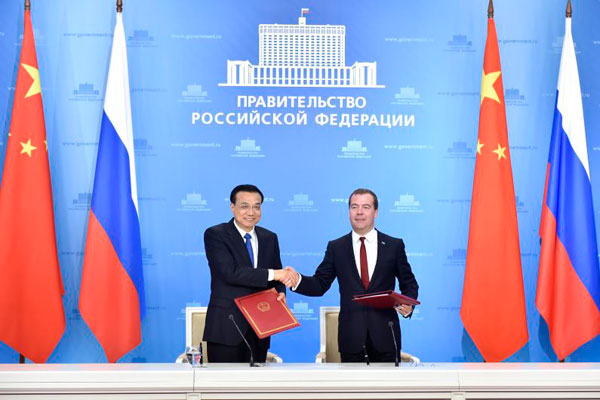 Premier Li Keqiang (L) shakes hands with Russian Prime Minister Dmitry Medvedev after they sign a joint statement following the 19th China-Russia Prime Ministers' Regular Meeting in Moscow on Oct 13, 2014. [Photo/Xinhua]
HIGHLIGHTS OF THE AGREEMENTS
Support for natural gas deal
The governments of the two countries will provide relevant measures and legal guarantees toward a 30-year natural gas deal signed by both sides in May. The deal is worth $400 billion and will pipe 38 billion cubic meters of natural gas every year from Russia to China.
High-speed rail
Transportation authorities will work with leading railway enterprises to build the Moscow to Kazan high-speed railway. The comprehensive cooperation includes project design, construction, services, facilities and financing.
Avoiding double taxation, tax fraud
A bilateral agreement signed in 1994 on avoiding double taxation and tax fraud will be overhauled to further reduce the burden placed on cross-border investors, better protect China's tax interests and promote Chinese investment in Russia.
Satellite navigation cooperation
The two sides signed a memorandum of understanding on the joint application of China's Beidou Navigation Satellite System and Russia's Glonass system. A working group will be set up to push forward bilateral cooperation in satellite navigation.
Grid overhaul, construction
The State Grid Corp of China and the Unified Energy System of Russia will place priority on their first batch of cooperation projects covering grid overhaul and construction. The move will deliver more Chinese electronics and other facilities to the Russian market.
Bilateral yuan clearance and bonds
The Bank of China and the Moscow Stock Exchange will conduct in-depth cooperation on offshore yuan product studies and transactions, clearance and bond issuance. This will increase the use of the Chinese currency in bilateral clearance and investment.
Marking WWII victory
The two countries signed an action plan for bilateral cultural events next year to mark the 70th anniversary of the victory in World War II. Tourism authorities in both nations will boost cooperation among sectors and jointly explore related products.
IT cooperation
Chinese telecommunication giant Huawei will work with Russian counterpart Comcor on broader cooperation that includes servers and storage and data centers. The move is considered the first large-scale cooperation involving Chinese enterprises and Russia-based data centers.