ROME -- Premier Li Keqiang arrived on Oct 14 for an official visit to Italy and a trip to the headquarters of the Food and Agriculture Organization (FAO).
Li was greeted at the airport by senior Italian officials and Chinese Ambassador to Italy Li Ruiyu.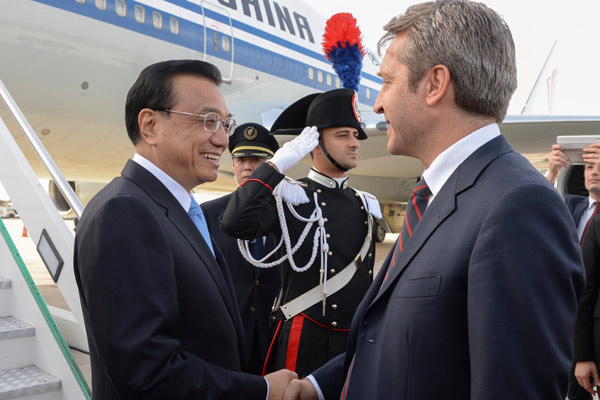 Premier Li Keqiang is greeted by an Italian senior official at an airport in Rome on Oct 14. Li is on an official visit to Italy.[Photo by Li Xueren/Xinhua]
Li is also scheduled to attend the 10th Asia-Europe Meeting (ASEM) summit in Milan from Oct 16 to 17.
During his visit to Italy, a friendly partner of China in Europe and a key member of the European Union, Li is expected to meet with President Giorgio Napolitano, Prime Minister Matteo Renzi and other Italian leaders.
China and Italy are expected to issue a joint declaration and sign about 20 agreements. The two countries will also promote investment and cooperation between their small and medium-sized enterprises.
Ahead of World Food Day, Li will visit the FAO headquarters for the first time on Oct 15, which shows that China attaches great importance to international cooperation in non-conventional security fields.
It has been widely recognized that China's achievements in food security and poverty reduction have made huge contribution to global efforts to these ends.
As a focus of Li's Europe tour, the ASEM summit will see more efforts by China to push for deeper cooperation and enhanced mutual trust between Asia and Europe.
This will be the first time for the Chinese premier to attend the ASEM summit since he took office last year.
Italy is the last stop of Li's three-nation European tour, which has taken him to Germany and Russia.