MILAN, Italy -- Premier Li Keqiang and his Vietnamese counterpart, Nguyen Tan Dung, agreed in Milan on Oct 16 to properly deal with bilateral maritime differences and keep bilateral ties on the right track.
Thanks to efforts from both sides, China-Vietnam relations have ridden out the recent rough patch and gradually recovered, Li said in the meeting, which took place on the sidelines of an Asia-Europe Meeting (ASEM) summit.
He expressed the hope that the two sides will implement the consensus reached by their leaders so as to secure healthy and stable growth of bilateral ties.
The two neighbors, he said, should safeguard the overall direction of the development of their relations, and properly address and control maritime differences, so as to create necessary and favorable conditions for bilateral cooperation.
He suggested that the two sides continue to push forward practical cooperation in maritime, overland and financial sectors, and make concerted efforts to advance bilateral ties and cooperation in a practical and flexible way.
For his part, Nguyen Tan Dung said his country is committed to cementing the comprehensive strategic cooperative partnership with China.
Vietnam is willing to work with China to implement the consensus the two sides have reached and enhance high-level exchanges as well as mutual understanding and trust, he added.
He also agreed that the two sides should properly deal with maritime differences, and meanwhile give full play to bilateral cooperation mechanisms to boost cooperation in infrastructure, finance and maritime exploration.
This is the first time for the Chinese premier to attend an ASEM summit since he took office last year. Italy is the last stop of his ongoing three-nation tour, which has taken him to Germany and Russia.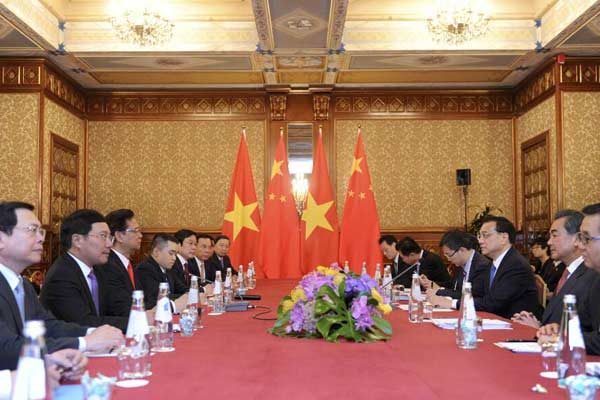 Premier Li Keqiang (3rd R) meets with Vietnamese Prime Minister Nguyen Tan Dung (3rd L) in Milan on Oct 16, 2014. [Photo/english.gov.cn]