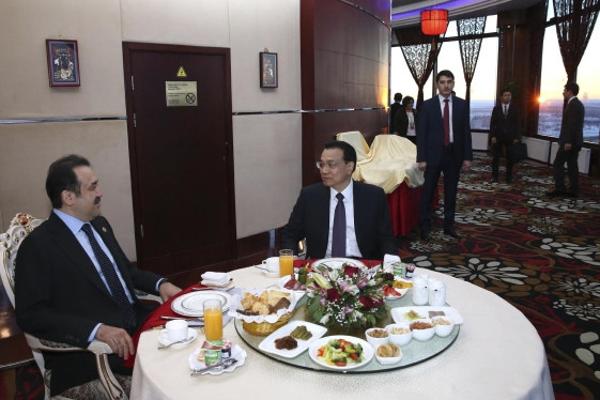 Premier Li Keqiang has a breakfast meeting with his Kazakh counterpart on Dec 15 in Astana, Kazakhstan.
Premier Li Keqiang and Kazakh Prime Minister Karim Masimov reached a tentative agreement on a cooperation framework worth $18 billion, involving China supporting Kazakhstan's Bright Road program which focuses on improving the country's infrastructure.
Premier Li and his Kazakh counterpart reached the tentative agreement during a breakfast meeting in Astana, Kazakhstan, on Dec 15.
The Premier later met with Russian Prime Minister Dmitry Medvedev — and then attended seven events of the 13th prime ministers' meeting of the Shanghai Cooperation Organization.
The tight schedule meant that the Premier was also busy during the lunch hour and, when he left the capital of Kazakhstan shortly after 19:00, he had been working nonstop for more than 11 hours.
He headed to Belgrade, and arrived in the capital of Serbia after a flight of more than 6 hours. He was met at the airport by Serbian Prime Minister Aleksandar Vucic — and reached his hotel at 01:30 Astana time.
On Dec 16, Li attended the leaders' meeting of China and Central and Eastern European (CEE) countries, and the opening ceremony of the 4th Economic and Trade Forum between China and CEE countries.
He also met prime ministers of seven CEE countries on the same day.
Premier Li's schedule in Kazakhstan and Serbia is just as jam-packed as when he visited Myanmar last month and Romania in November 2013.
The Premier's efforts will help China's equipment manufacturing industry reach out to a wider spectrum of the global marketplace — which will improve the country's economy and people's livelihoods.