China will give Switzerland an investment quota of 50 billion yuan ($8.05 billion) under its Qualified Foreign Institutional Investors (QFII) scheme to support the establishment of the Zurich offshore renminbi market, said Premier Li Keqiang during a meeting with Simonetta Sommaruga, president of the Swiss Confederation on Jan 21.
In an effort to get Switzerland involved in the process of the internationalization of yuan, Li hopes that the Swiss can offer help to facilitate Chinese banks opening branches in Switzerland.
This year marks the 65th anniversary of our diplomatic relations, Li said, we should make further efforts to advance bilateral cooperation in areas such as finance and people-to-people exchange, among others.
Expressing her willingness to strengthen cooperation with China, especially in the financial sector, President Sommaruga said Switzerland could become an offshore renminbi center in Europe.
Launched in 2002, the QFII program aims to speed up the yuan's convertibility under the capital account by allowing licensed foreign investors to use offshore renminbi to invest in China's capital market.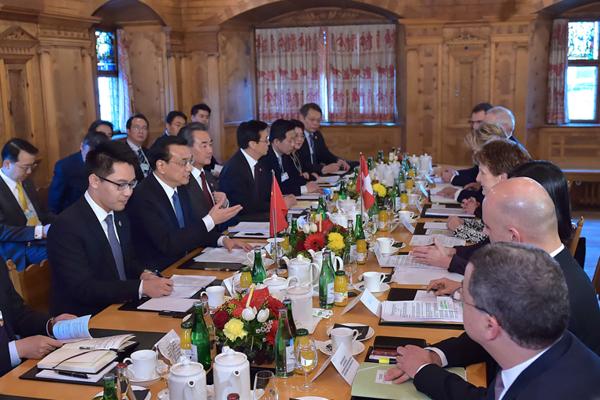 [Photo/english.gov.cn]