Premier Li Keqiang said that the Ebola epidemic has been one of the major challenges facing the international community since last year. China has expressed empathy toward those in affected areas and has carried out aid work, mostly in the health sector.
Premier Li Keqiang made the remark when meeting with Margaret Chan, World Health Organization (WHO) director-general in Zurich, Switzerland, on Jan 22.
The Premier said that China has sent many rounds of assistance in terms of capital, equipment, and hundreds of medical workers and public health experts, which have helped train local healthcare workers. The WHO has played an important role in coordinating the fight against Ebola, Premier Li said. He also mentioned that Chan visited affected areas several times, led the WHO in taking first steps, and achieved good results in epidemic prevention and control.
The Premier said that China will continue to aid Ebola-stricken areas, and help African nations to build health security systems. He also said that the Chinese government attaches great importance to cooperation with the WHO, and will continue to support Chan.
Chan praised the role China has played in fighting Ebola. She said that there are still great challenges which require efforts from across the international community. She added that the WHO intends to cooperate more closely with China in future.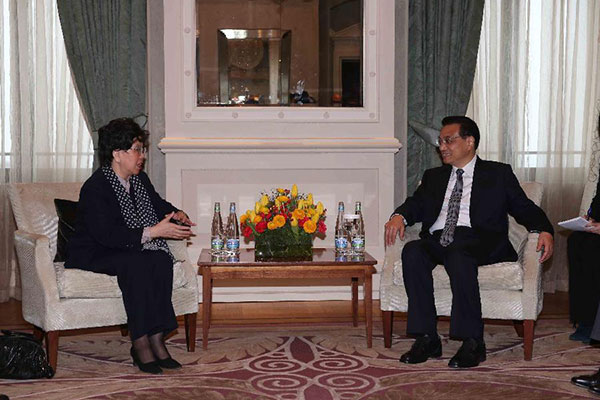 Premier Li Keqiang (R) meets with the World Health Organization Director General Margaret Chan in Zurich, Switzerland, on Jan 22.[Photo/Xinhua]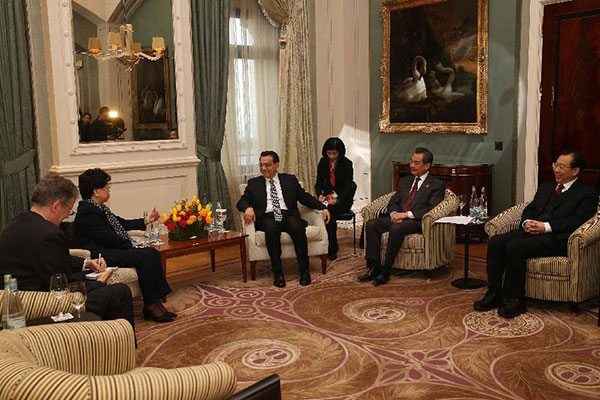 Premier Li Keqiang (4th R) meets with the World Health Organization Director General Margaret Chan (2nd L) in Zurich, Switzerland, on Jan 22.[Photo/Xinhua]