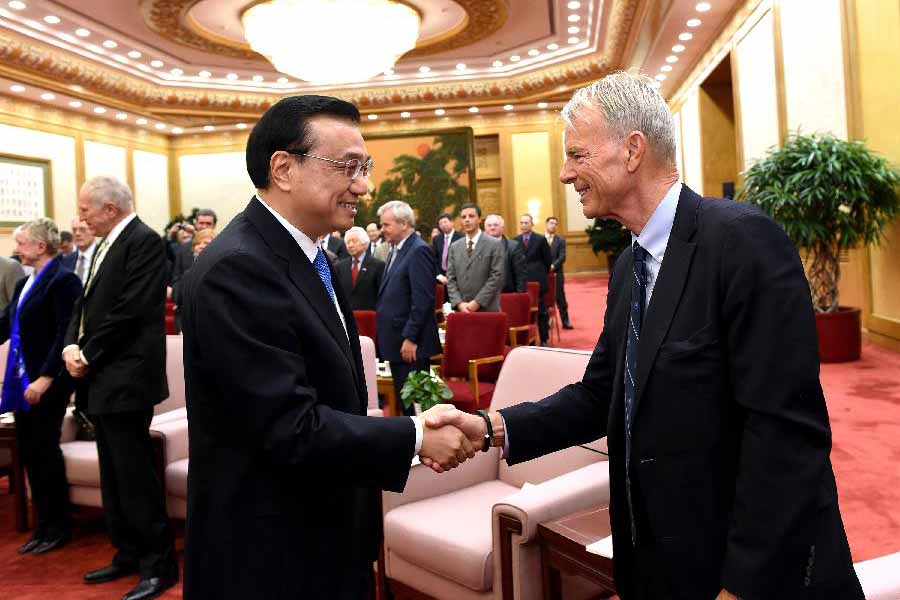 Premier Li Keqiang (L) attends a seminar with foreign experts working in China, in Beijing, Feb 10, 2015, before the Spring Festival which falls on Feb 19. [Photo/Xinhua]
BEIJING — Premier Li Keqiang on Feb 10 pledged to encourage mass innovation to counter the economic downturn and breed robust economic growth.
"China will step up efforts to simplify administrative procedures and delegate power to lower levels, carry out administration in accordance with law, and build a mechanism and ecosystem that encourages innovation," Li said in a seminar with over 60 foreign experts working in China.
Dragged down by a cooling property sector and lackluster exports, China's economy grew 7.4 percent in 2014, the weakest annual expansion in 24 years.
Li said structural reforms, the change of development mode, and improvement of quality and efficiency are key to ensure China's economic growth at a middle-high speed.
"The largest driving force to realize all these is reform and innovation," the Premier added.
He promised to create a cultural atmosphere that encourages fairness, honesty and observance of law for entrepreneurs and innovators, and boost innovative economy.
A total of 67 experts from 32 countries joined the seminar, including Nobel laureates Michael Spence and Edmund Phelps, and US futurist and best-selling author John Naisbitt.