Fan Haohao, a 25-year-old man working in an express delivery company, said he is happy that Premier Li Keqiang's visit boosted the company's business, people.cn reported on Feb 27.
Premier Li met Fan at a ZTO Express logistics center in Yiwu, East China's Zhejiang province on Nov 19.
"I looked up and saw the Premier standing in front of me. He shook my hand," said Fan.
The Premier asked him how his business was going.
Fan became a courier for the company seven years ago, and is now in charge of the logistics center.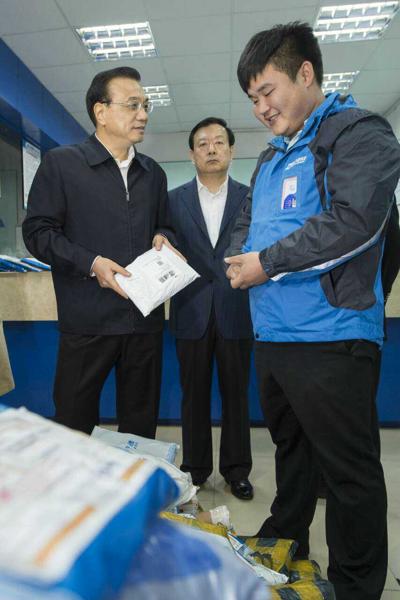 The number of packages handled by this center has increased from under 200 a day to more than 12,000, thanks to the rapid development of e-commerce and online shopping.
And the center now handles an extra 3,000 packages a day - following the Premier's visit.
"Your business not only creates jobs, but also creates a new lif" the Premier told Fan, adding that the company helps narrow the urban-rural divide - as it delivers packages between rural and urban areas.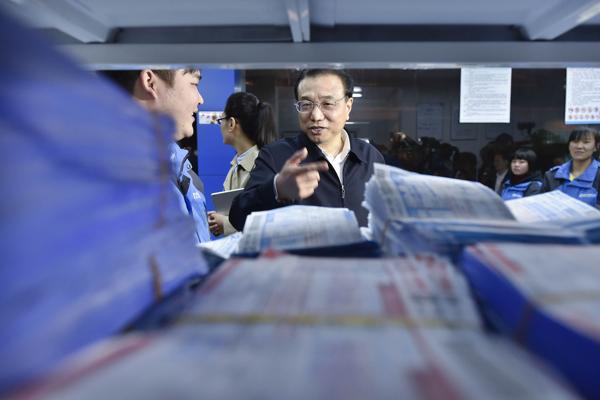 Premier Li also said logistics is one of the core sectors in a modern economy, and express shipping thus plays an important part in the country's economy. "Your job may be ordinary, but it is important," he said.
The government reinforced its support for the express delivery services industry at an executive meeting on Sept 24, 2014.
The State Council decided to fully open up the package express delivery market, and issue permits to qualified foreign companies who wish to operate in China. Additionally, the procedure for issuing permits will be streamlined.
The State Council also decided during the meeting to coordinate the development of the express delivery services industry, e-commerce and manufacturing, as they complement one another.
Fan later said: "I am really grateful for the Premier's words of encouragement," adding that Premier Li "brought us more opportunity".
He also said he intends to recruit more workers and expand the business in 2015.