Upgrading heavy industry
Updated:
Mar 9,2015 5:43 PM
english.gov.cn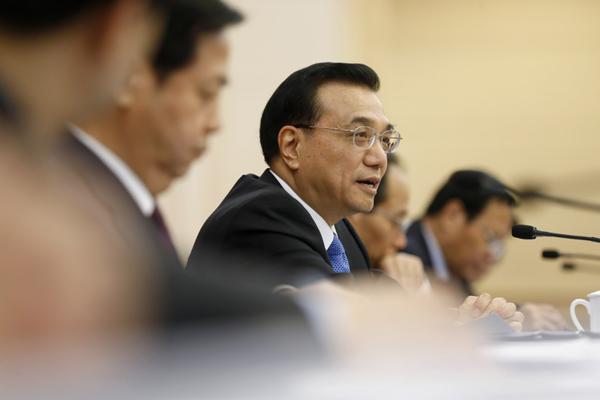 Premier Li Keqiang joins discussion with National People's Congress (NPC) deputies from Heilongjiang province in Beijing, March 9, 2015.[Photo by Liu Zhen/China News Service]
Premier Li Keqiang urged authorities in Heilongjiang province, located in northeast China's rust belt, to upgrade heavy industry - with the aim of adjusting the unbalanced economic structure after the province was hit by falling commodity prices in 2014.
Li asked officials and NPC deputies to remain hopeful about the development of Heilongjiang, which has much potential due its size and the fact that many areas are still underdeveloped.
"Heilongjiang's economy relies heavily on energy-based industries and short industrial chains. But we should still have faith in the province as some sectors, such as modern industrialized agriculture, are developing well," Li said.
Heilongjiang's economy grew only 5.6 percent in 2014, 2.9 percentage points below target and well behind the 8.0 percent seen in 2013.
Weakened overseas demand - as well as falling commodity prices - have also led to the cooling down of economic expansion in the rust belt. The province has decided to cut annual oil output by 1.5 million metric tons this year.