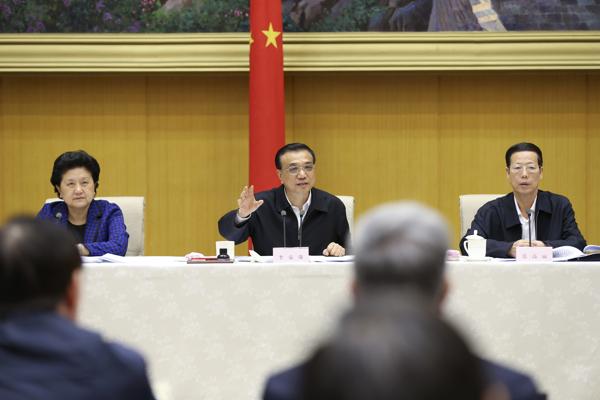 Premier Li Keqiang on May 12 set the goal of streamlining administration this year and instructed the government to use big data and cloud computing to seek innovation in supervision.
"The greatest truths are the simplest. Those in power must not stubbornly pursue their own aims," the Premier quoted ancient Chinese classics as saying.
He made the remarks when addressing a video and teleconference in Beijing held by the State Council to push forward administrative reform.
Premier Li set the major task for streamlining — to further cut the number of items for administrative examination and approval, items that have to be handled by intermediary agents during the process, otiose procedures in the approval process, barriers to registration and other affairs of enterprises as well as unreasonable charges and fees that violate laws or regulations.
He noted the aim of the efforts is to encourage ordinary people to set up their own businesses and seek innovation.
He also ordered that the goal of issuing only one business license to new companies be met instead of the previous three certificates. Each business license should bear one code, instead of the previous three.
"Throughout Chinese history, governments in times of prosperity always followed the principle of streamlining administration as well as cut taxation," the premier said.
As a result, the government has to strengthen supervision, Li added. He demanded the government set up a comprehensive platform for supervision and promote transparent and random examination.
The government has also been asked to provide better services to people in various areas from financing to intellectual property.
"We have to pursue reform with the door open, change the way of government 'setting the table' to people 'ordering dishes'," Premier Li said, asking the government to settle problems raised by the public.
The Premier has exerted efforts to streamline administration and delegate the government's power to lower levels ever since taking office in early 2013.
Economists have attributed the stable employment rate in past months, despite the downward pressure on the economy, to jobs created by surging new businesses.