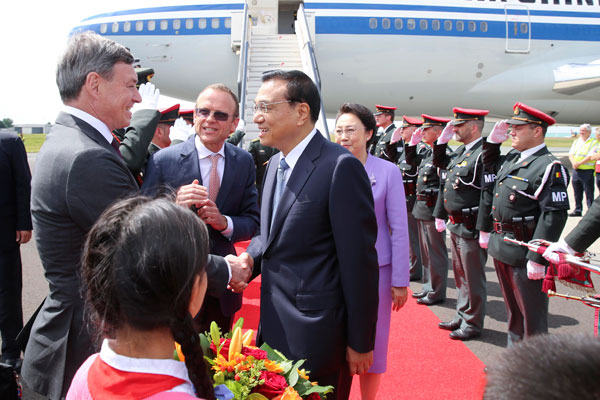 Premier Li Keqiang arrived at Brussels, Belgium on June 28 to kick off a five-day visit to Europe. [Photo/China News Service]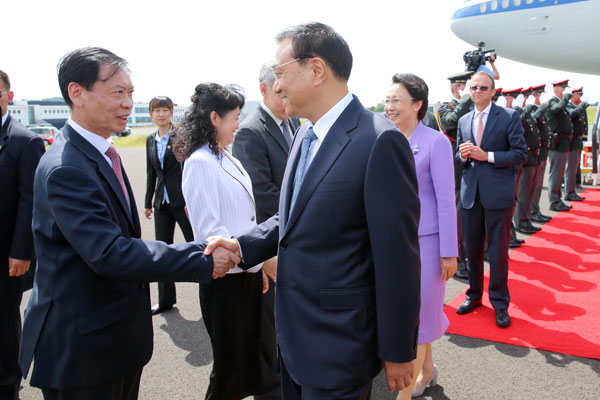 Premier Li Keqiang arrived at Brussels, Belgium on June 28 to kick off a five-day visit to Europe. [Photo/China News Service]
Premier Li Keqiang arrived in Brussels on June 28 at the start of a five-day visit to Europe.
He said Sino-Europe relations, after 40 years of development, have been strategically significant and increasingly complementary. China is consistently supportive of European integration and dedicated to deepen its comprehensive strategic partnership with Europe.
The Premier is scheduled to co-chair the 17th China-EU leaders' meeting with President of the European Council Donald Tusk and European Commission President Jean-Claude Juncker. He looked forward to developing in-depth discussion with EU leaders to further advance Sino-Europe relations and bilateral pragmatic cooperation.
Li will deliver a speech at the opening ceremony of the 10th China–EU Business Summit, attend a forum on the China-EU urbanization partnership and meet the President of the European Parliament Martin Schulz. He will also meet Belgian Prime Minister Charles Michel.
Premier Li received a warm welcome on arrival from high level officials from the EU and the host country.