Premier Li Keqiang coined the expression "twin engines" of the Chinese economy when addressing the World Economic Forum's annual meeting in Davos, Switzerland earlier this year.
China will transform the traditional engine of growth by focusing on increasing the supply of public goods and services, and also encourage mass entrepreneurship and innovation to foster a new engine of growth, he said.
Since then, executive meetings of the State Council have often discussed issues related to the topic of "transforming the traditional engine of growth".
During a meeting in February, the State Council decided to accelerate efforts to renovate shanty towns and dilapidated houses as well as upgrade infrastructure around them.
It decided in May to promote public-private partnership (PPP) in key sectors and sought private capital to expand the supply of public goods and services.
The State Council said in June that the government will shore up effective investment in key sectors and give full play to the government's efforts in stabilizing economic growth, restructuring the economy and bringing benefits to the people.
It also decided, at its 100th executive meeting in July, to rebuild or renovate urban underground facilities and expand the supply of public products to ensure a new type of urbanization.
"We often attributed downward pressure faced by the economy and declining investment growth to insufficient domestic demand. In fact there remains great insufficiency in China's supply of public goods and services," the Premier said.
He asked authorities to review the country's past economic and social development, and identify areas with remaining potential.
With regard to the supply shortage of public goods and services, Premier Li said China's public facilities are only 38 percent of that in West Europe and 23 percent of that in North America and the level of China's service industry is 10 percentage points lower than other developing countries, while the country's urbanization rate is more than 20 percentage points lower than developed countries.
It is worth noting that when he put forward the idea of "transforming the traditional engine of growth" for the first time, the traditional investment-driven Chinese economy began to show typical characteristics of experiencing a shifting period.
China's manufacturing purchasing managers' index posted 49.8 in January, below the 50-point mark, reflecting looming downward pressure on the economy.
"This is a significant shift, meaning that the Premier's policies and measures to deal with the downward pressure of the economy have taken shape," an analysis article said.
"Some traditional engines that used to boost economic growth have become invalid, but China needs to keep a certain growth rate of GDP to ensure employment and create conditions for further reforms. Transforming the traditional engine of growth is one solution the Premier has offered," it said.
During an executive meeting at the beginning of this year, the Premier called the renovation of shanty towns, railway construction in central and western areas and the construction of major water conservancy projects the "three pillars" of transforming the traditional engine of growth.
According to Premier Li, the three pillars have a common characteristic, that is they are not only new growth points of investment, but also things that the public expects.
The idea of "killing two birds with one stone" has run through related topics of the State Council executive meetings.
In April last year the State Council decided on policies and measures to deepen the reform of railway financing and speeding up railway construction.
Premier Li said construction of railways could be crucial in several aspects and that construction in central and western areas especially would boost economic growth.
The construction of major water conservancy projects is of great significance to boost agriculture, ensure grain supply and water conservancy safety and stabilize growth, he said at the executive meeting in May last year.
The construction of shanty towns and related infrastructures is a major step to improve people's lives and promote economic growth as it concerns the improvement of living conditions of millions of families in difficulty.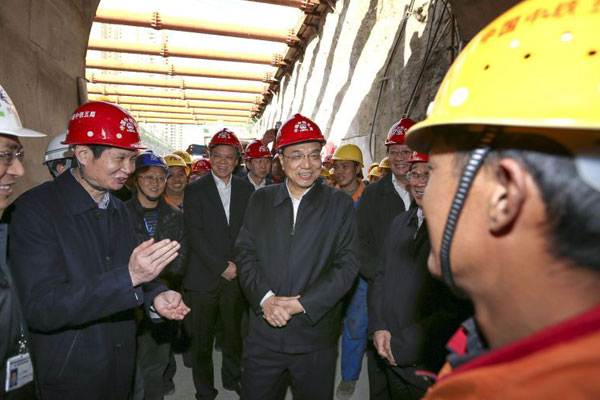 Premier Li Keqiang visited the construction site of the Line 1 light rail of Guiyang, Guizhou province on Feb 14, to see the progress of the project.[Photo/Xinhua]
Premier Li injected a new element into expanding investment in public products and services noting that government input isn't the only force that can be relied on.
PPP, which aims at using private capital to increase the supply of public products and services, was often discussed at State Council executive meetings.
At the May meeting Premier Li said the past practice of providing public products and services, mainly depending on government investment, is unsustainable.
The application of the PPP mode represents an important measure to stabilize growth, advance reforms and adjust economic structure as well as an effective tool to boost investment.
When talking about plans to rebuild underground facilities in urban areas at the 100th State Council executive meeting, the Premier was told by a head of a ministry that past experiences show that the PPP mode can bring returns for investors.