Premier Li Keqiang did not spend his first day at work this year in Zhongnanhai, Beijing's leadership compound - instead, he visited a "maker space" of only 20 square meters in Shenzhen, Guangdong province.
The word "makers" now refers to enthusiasts, who turn creative ideas into real products with new technology. Premier Li said such innovative vitality will become a continuous engine for the Chinese economy in the future.
Phrases such as "public entrepreneurship" and "mass innovation" are now often mentioned at State Council executive meetings. Since the beginning of this administration, 22 of the past 100 executive meetings have prescribed tasks related to entrepreneurship and innovation.
Describing it as "an act of reform", the Premier said public entrepreneurship and mass innovation are inspired by history.
He said that the land contracting policy of 30 years ago greatly motivated millions of farmers. As permission regarding population movement was also granted, these two initiatives created an "economic miracle in Chinese history".
The Premier said the prosperity of a country relies on people's creativity, and economic energy stems from the diversity of employment, entrepreneurship and consumption.
He also said that public entrepreneurship and mass innovation aim to "adjust the structure of national income distribution and facilitate more channels upward for children from poor families."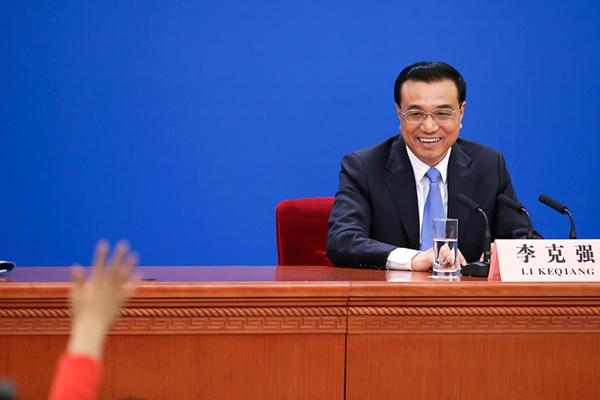 Premier Li Keqiang meets the press at the Central Hall on the third floor of the Great Hall of the People in Beijing on March 15, 2015.
Innovation in systems, management and models
Premier Li is considered to be the world's first government chief who visited a "maker space". Reports said this focus showed that the Chinese government is embracing mass innovation.
In an executive meeting shortly after his Shenzhen trip, the Premier proposed to frame policies for more "maker spaces" and build platforms for innovation. The word "maker" was also included in this year's government work report.
"We should believe in the market and the enormous creativity of our people. The public can shrewdly sense market demand. We should help release them from many constraints," the Premier said in Liaoning province in 2014.
Half a year later, he talked about "public entrepreneurship and mass innovation" at the Summer Davos Forum in Tianjin.
"Every breakthrough of the Chinese economy depends on innovation, which includes not just technology, but also changes in systems, management and models," the Premier said.
"The tremendous potential for innovative development still lies in institutional reforms, which will remove barriers to empower every creative mind and enable free flows of innovative ideas in society," he added.
Innovation and entrepreneurship as popular youth culture
In March, on the sidelines of the China Development Forum, Premier Li advised Nobel Prize laureate Joseph Stiglitz to visit some "maker spaces" around the country to "feel the passion for entrepreneurship" even at the grass-roots level.
Stiglitz enquired about China's tools to narrow the wealth gap and overcome social inequality, and Premier Li's reply referred to public entrepreneurship and mass innovation.
The Premier said the government will streamline administration and delegate powers to optimize services, which will bring more convenience for entrepreneurs.
The entrepreneurial platform that the government has provided allows more young people, especially those from poor families, to have opportunities for upward mobility.
"We should encourage grass-roots entrepreneurship and innovation, which is conducive to the structural adjustment of distribution and income," the Premier said.
Since the beginning of the year, a series of polices, regarding tax reduction, "Internet Plus" and the abolition of more licenses for professional qualifications, have been released to help remove barriers for innovation and entrepreneurship.
Between March 2014 - when the business registration system was reformed - and May 2015, a record 4.85 million new enterprises were created. Against the backdrop of slowing economic growth, the number of newly-registered enterprises increased dramatically. As a result, the increase in employment is much higher than last year, with a relatively low unemployment rate of about 5 percent.
The US Foreign Policy magazine said a tide of mass entrepreneurship has been sweeping China.
The culture of entrepreneurship and innovation has become increasingly popular among young Chinese people, whose creative energy will be released for the benefit of the Chinese economy, it said.
Innovation and entrepreneurship brings vitality
But the significance of public entrepreneurship and mass innovation lies in more than just creating jobs.
At an executive meeting of the State Council last year, Premier Li said encouraging public entrepreneurship and technological innovation will not only satisfy market demand of diversified consumers - it can also improve the competiveness of China's key technology.
An executive meeting in June focused on the topic of supporting rural migrant workers to return home to start their own businesses.
The number of rural migrant workers in China rose to 274 million in 2014, and the country is expected to see an increase of 6 million unemployed rural workers every year.
The Premier said encouraging rural migrant workers to return home to start new businesses will not only help them boost their income - it will also drive industrial transfer from East China to West China and promote urbanization in central and western provinces.
An executive meeting of the State Council at the beginning of this year decided to establish venture capital guidance funds for emerging industries, in a bid to promote innovation and industrial upgrading. The Premier applauded the effort, saying the integration of "small money" such as several funds for strategic industries can be used for more flexible purposes, which can support technological innovation-based enterprises to a greater degree.
Premier Li has always emphasized nurturing young and grass-roots entrepreneurs. In May, in a letter to a makers' team of Tsinghua University, he said the core of public entrepreneurship and mass innovation lies in stimulating youth creativity.
Entrepreneurship and innovation of young people can bring more vitality to our country, said the Premier.
"In a time of makers, creation is no longer a specialty of a few people, but an opportunity for the majority," he said.