Ever since Premier Li Keqiang took office, the government has been making great efforts to promote collaboration in international production capacity.
When Premier Li visited Kazakhstan in December 2014, he reached an initial agreement with his Kazakh counterpart Karim Massimov on bilateral cooperation worth about $18 billion.
The agreement encourages China's companies to set up factories in Kazakhstan to produce cement and plate glass, thus helping the country develop its infrastructure.
During Premier Li's visit to Brazil, Colombia, Peru and Chile in May, China signed agreements on production capacity cooperation worth more than $100 billion with the four countries.
In Brazil, Premier Li inspected a train a Chinese company made in Rio de Janeiro on May 20, and said that the project should become an example of China-Brazil cooperation on production capacity. The Chinese company is executing a project to make subway trains for the Brazilian capital.
When the Premier visited Europe a month later, China signed 12 cooperation agreements with Belgium worth more than 18 billion euros; and issued a joint statement with France on nuclear power cooperation and exploring third-party markets.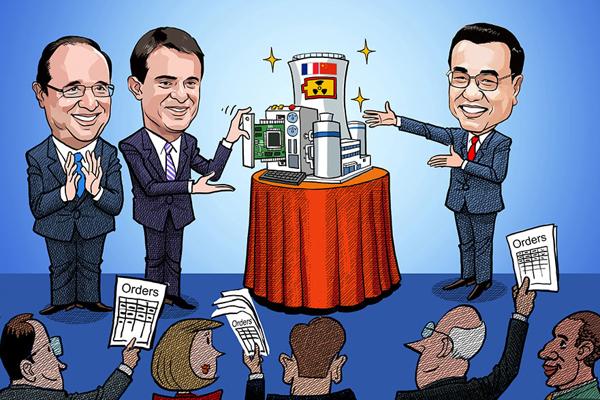 Trilateral partnership. Premier Li met French President Francois Hollande in Paris and also held a meeting with French Prime Minister Manuel Valls. The two countries issued a joint statement on cooperation with third parties and a joint statement on China-France nuclear cooperation. [Photo/China Daily]
At an executive meeting on Dec 24, 2014, the State Council decided to lend more support to financial institutions investing abroad.
At another executive meeting on Jan 28, the State Council decided to speed up the export of China's equipment.
On May 17, it issued a guidance on pressing ahead with international cooperation on both production capacity and equipment manufacturing, an important road map for China for such cooperation.
Exporting production capacity is an important step to upgrade China's economy, according to Premier Li.
"In the beginning of reform and opening up, many countries transferred a lot of production lines to China's southeastern coastal region, helping the phrase 'made in China' gain global fame. Now it's time for us to export our production capacity," the Premier said.
Now is a good time for exporting China's equipment and quality production capacity, as not only developing countries, but also some developed countries need to renovate or upgrade their infrastructure, the Premier added.
"China's economy has been growing during the process of globalization. Embracing globalization is necessary for China's development as is reform and opening up," he said.