Innovation in science and technology has been a topic in 21 of 100 State Council executive meetings presided over by Premier Li Keqiang till July 28.
"As a matter of fact, we have missed several scientific revolutions in the past, but we will not miss anymore," Premier Li said during a meeting to formulate strategies for the development of science and technology in July.
During an executive meeting early in 2014, Premier Li said China should follow an innovation-driven strategy, especially using innovation in science and technology to support the economy and raise China's economic strength.
In meetings that followed, several policies were announced to "establish a service system for agricultural technology innovation", build "insurance systems with technology innovation" and support "technological start-up companies".
China has long been regarded as the "world's factory", but during a visit to the Institute of Physics of the Chinese Academy of Sciences in May, the Premier told people who were taking photos of him: "I noticed that most of you are using foreign mobile phones. China is the largest manufacturer and biggest user of mobile phones but most of these phones are just 'Made in China'. I wish our technology can change them to 'Created in China'."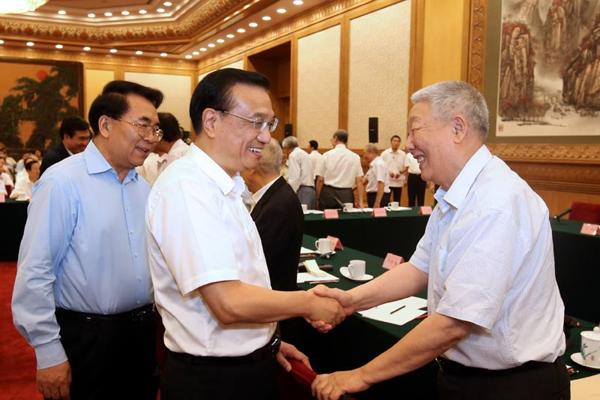 Premier Li Keqiang meets with Sun Jiadong, member of the Chinese Academy of Sciences, at a conference on national strategies to develop science and technology on July 27.
Premier Li has also called for greater efforts to protect intellectual property rights, better management systems and more funds to encourage innovation in science and technology.
During an executive meeting on Dec 3, 2014, Premier Li emphasized the importance of sparking science researchers' creativity to make breakthroughs in key technologies.
"Obstacles that hold back startups and innovation should be removed, and the sci-tech administration should be improved to create better conditions for people to devote themselves to research," he said.
Efforts to promote scientific and technological development are vital for China to gain an edge in the global scientific and technological revolution and deal with environmental and resource constraints as the country enters a key stage in upgrading and development, Premier Li said during a science and technology seminar on July 27.
The Premier stressed that science and technology should be regarded as a primary productive force, calling for closer integration of science, technology and the economy to maintain momentum for mid-to-high economic growth.