Premier Li Keqiang is considering adopting pioneering technologies to upgrade low value-added made-in-China products.
At the State Council's study session on Aug 21, Premier Li, vice-premiers, state councilors and more than 100 officials from the cabinet and heads of State-owned enterprises listened to an hourlong lecture on three-dimensional printing and modern manufacturing.
After the lecture, Premier Li said China has to "make up missing lessons" in industrial development, which is big in terms of volume, but lacks in competitiveness.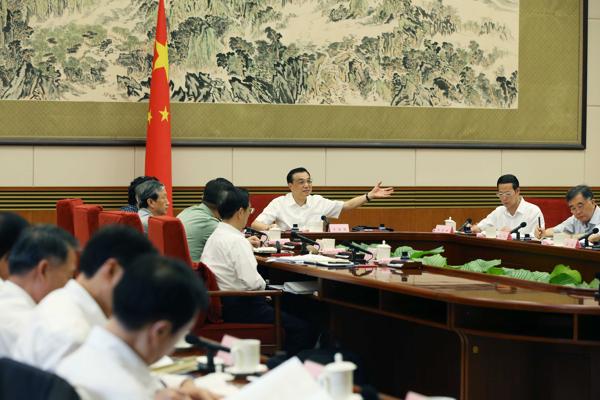 "If we want to make manufactured-in-China products to compete with commodities from Japan, Germany and the US, we need creative perceptions," he said.
3D printing, he said, as a form of additive manufacturing, opens up the thoughts on the development of not only manufacturing, but also of other sectors.
"China is not rich in natural resources, sometimes it has less than the level of world's average, and additive manufacturing can offer a revolutionary change to the way of production," said the Premier.
"The approach of making addition also applies in other sectors. For instance, by integrating Internet with industrial production, we have accumulated wisdom, altered the way of marketing and made institutional breakthroughs," he said.
Premier Li said technology revolution is ongoing, and many countries have spared no efforts to seize future opportunities in industrial development during the transitional period. "The stabilization and upgrading of Chinese economy both require industrial restructuring, and a new driving force, in which intelligent manufacturing could be the key," he said.
China unveiled an ambitious plan to upgrade its manufacturing power in the next 10 years in March. The program, dubbed "Manufactured-in-China 2025", calls for greener and intelligent manufacturing, an emphasis on quality, and deeper integration with the Internet, hoping to transform the labor-intensive made-in-China products into products with higher value.
Premier Li said keep studying is the way to improve one's ability to get hold of the general situation and know about the latest, and the State Council's study session is meant to enhance scientific and efficient governance.
Lu Bingheng, a scientist from Xi'an Jiaotong University specializing in machinery manufacturing and automation, was the lecturer of the study session on Aug 21.
Lu said he was informed to give a lecture to the leaders in April.
"It is not easy to lecture top leaders. I have to condense the essential knowledge as well as in-depth analysis of a field in less than an hour," he said, saying he has revised the script for at least three times.
When comparing the strengths and deficiencies of modern manufacturing among Germany, the US and China, Lu said China has a relatively complete industrial system and a huge domestic market with abundant human resources, while the Germans are known for a solid industrial foundation and rigorous technique. The US, he said, is competitive in high technologies, innovative ideas and its ability to attract global talents.
Although it is a usual practice for Chinese Communist leaders, legislators and policy advisers to host study sessions once in one or two months, the lecture on Aug 21 is the first of its kind for State Council officials, including state councilors, ministers, heads of State-owned enterprises and lower level civil servants.