Premier encourages innovation
Zhao Yinan in Luoyang, Henan and Chen Jia in Beijing
Updated:
Sep 24,2015 7:22 AM
chinadaily.com.cn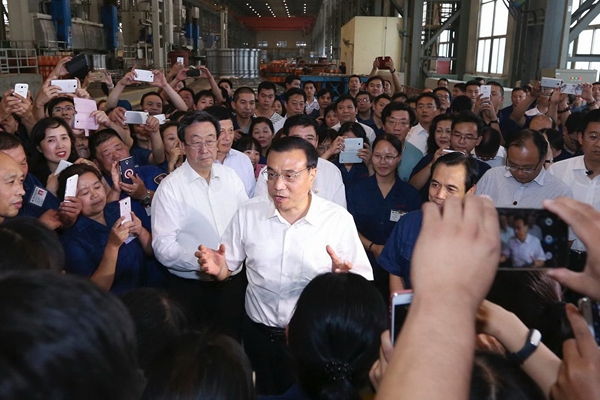 Premier Li Keqiang meets with workers as he visits a mining equipment manufacturer in Luoyang, Henan province, on Sept 23. The Premier called for workers not just to rely on their expertise but also on technology.[[Photo/China News Service]
Premier Li Keqiang called for manufacturing companies to create a new driving force and stabilize China's economic growth through innovation.
Premier Li made the comment in Henan province on Sept 23.
Mass innovation is not only for small and micro-sized companies but also for large companies, the Premier said during a visit to a leading mining machinery manufacturer in Luoyang, Henan.
The company set up five workshops led by skilled workers with outstanding manufacturing expertise in 2013.
Premier Li said the quality of made-in-China equipment sometimes still lags behind that of developed countries, partly because of the expertise of skilled workers.
"The workshop method is innovative, and I hope we use more high technologies in our production in the future, apart from the expertise," the Premier said.