Premier Li Keqiang highlighted mass entrepreneurship and innovation as a new engine of China's economic development, and stressed the combined development of new-type urbanization and agricultural modernization during his tour to Central China's Henan province from Sept 23 to 25.
Practices prove that mass innovation is not only for small and micro-sized companies but also for large companies, said the Premier.
When visiting a leading mining machinery manufacturer in Luoyang city on Sept 23, he said that entrepreneurship and innovation can be adopted by large State-owned enterprises (SOEs), and that SOE reform can also be combined with innovation and entrepreneurship, developing a mixed-ownership economy in China.
Premier Li thought highly of the province's economic and social development, urging the province to be a pioneer in the national drive of innovation and entrepreneurship.
Henan should contribute to the development of Central China and the whole country's medium-to-high level of development, he said.
Premier Li praised the development of cross-border e-commerce at Henan Bonded Logistics Center in the provincial capital Zhengzhou, which harbors nearly 500 cross-border e-commerce enterprises.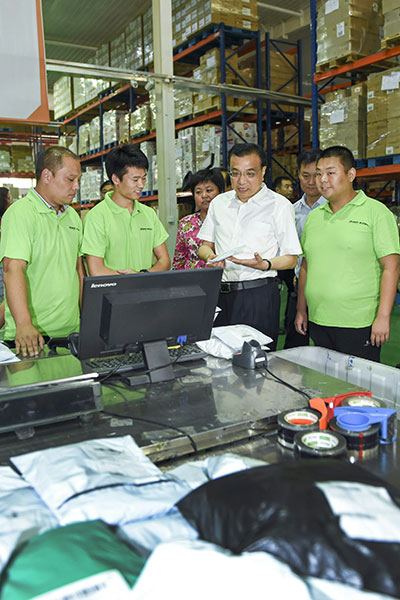 He encouraged businesses in the center to grow by aiming at the global market.
Premier Li also asked local customs and quality inspection authorities to continue streamlining administration and delegating powers to lower levels, providing better services and improving customs clearance efficiency for local companies.
New-type urbanization in populous provinces in Central China has huge potential, the Premier said, adding he was happy to see rapid development of medium-to-high grade industries in the new district in eastern Zhengzhou.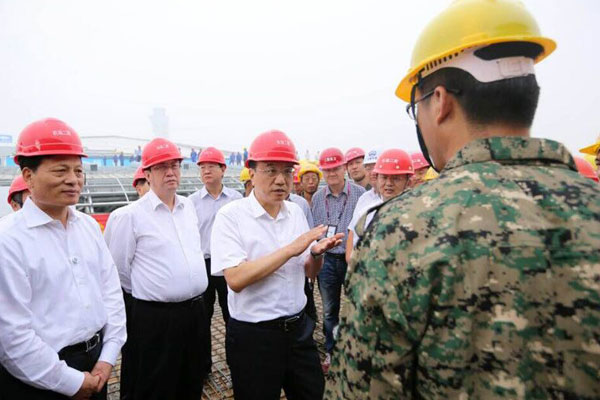 The construction of major infrastructure such as airports and railways needs to be sped up and efforts need to be made to reduce circulation costs and promote industrial upgrades, the Premier said during a visit to the second-phase project of the airport in Zhengzhou.
China also needs to make great effort to develop modern agriculture, as agriculture concerns many other industries, Premier Li said during a visit to a corn farm.
He urged local officials to provide better services for migrant workers who returned to their hometowns to start businesses.
During a visit to the First Hospital affiliated to Henan University of Science and Technology in Luoyang, Premier Li said both rural and urban residents are entitled to medical insurance coverage.
Premier Li said all residents in urban and rural areas must be covered by critical illness insurance this year, an important part of China's medical insurance system.
Experience shows that critical illness insurance can help ensure that sick people get proper treatment, he said.