Premier Li Keqiang voiced support for the development of the new-energy vehicles industry while visiting an automaker in East China's Anhui province on Oct 30.
The government will take multiple measures, including putting forward supportive policies and improving the charging network, for the development of new energy vehicles, Premier Li said.
China's vehicle manufacturers should eye the most advanced technologies in the auto industry, enhance openness and international cooperation, and build up China's national auto brands, he said.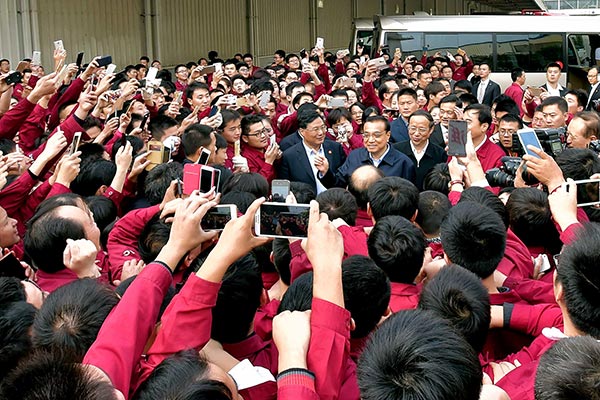 The Premier made the remarks while visiting China Anhui Jianghuai Automobile (JAC), one of China's top 10 automakers. Established in 1964, JAC is a listed company with more than 32,000 workers.
It is exciting to see that JAC has developed into a big company with multiple products including trucks, SUVs, buses and electric cars, and innovation is the key for its development in the past decades, Premier Li said.
"Innovation is the real engine for your development. Quality is the basis for you to explore the market. Openness and cooperation will bring you a brighter future," Premier Li told the workers.
During his talks with An Jin, board chairman of JAC, the Premier asked detailed information about the company's new generation of electric cars, including the price, safety devices, battery technology, and the local government's supportive policies.
After hearing that JAC is willing to cooperate with Volkswagen, the Premier told the workers that he would like to submit the information to the board chairman of Volkswagen to push forward cooperation.
During his inspection tour, Premier Li also visited the human resources market in Hefei. He talked with the college students who are hunting for jobs and employers who are recruiting staff members there.
The government should improve employment, promote mass entrepreneurship, and help college graduates to start up their own companies, Premier Li said.