A year of deal-making has seen the Premier forge new markets for Chinese products and boost the economies of other countries.
Twelve months ago, over a breakfast of bread, orange juice and salad, Premier Li Keqiang and Prime Minister Karim Massimov of Kazakhstan signed deals worth more than $18 billion covering a number of sectors including infrastructure, roads and housing.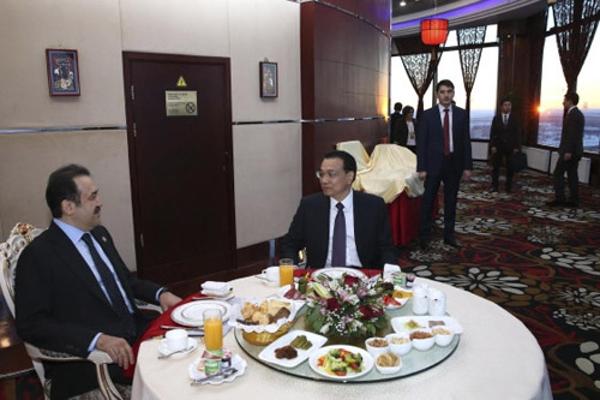 [Photo/Xinhua]
One day before the Dec 15 breakfast in Astana in 2014, Premier Li's meeting with Kazakhstan President Nursultan Nazarbayev was extended from its scheduled time slot of one hour to 90 minutes, an indication of a more extensive and in-depth conversation between the two leaders.
On March 27, 2015, while Massimov was in Beijing, the Premier said that China has surplus production capacity that can meet the needs of countries that are implementing industrialization.
Conducting large-scale cooperation in production capacity between China and Kazakhstan, he said, would not only help both countries promote economic development and withstand the downward pressure by connecting China's Belt and Road Initiative with Kazakhstan's "Nyrly Zhol" plan, but also set an example for other countries in carrying out industrial and production capacity cooperation.
As a result, the countries on that day signed 33 capacity cooperation documents, covering a wide range of fields, worth $23.6 billion.
China and Kazakhstan have so far launched 52 capacity cooperation projects exceeding a total investment of $24.1 billion.
Starting capacity cooperation with Kazakhstan, China is now improving such cooperation with 17 countries.
During his official visit to Brazil, the Premier took a ride on the new China-built subway in Rio de Janeiro with the city's governor on May 20.
It is in Brazil that the Premier first put forward a new "3X3" model for enhanced cooperation between China and Latin American countries.
During his talks with French President Francois Hollande on June 30 at the Elysee Palace in Paris the two leaders reached an in-depth consensus on cooperation in third-party markets, bringing a developed country into international capacity cooperation.
The Chinese and French governments later issued a joint statement on cooperation in third-party markets.
So far, China and France have made breakthroughs in cooperation in third-party markets. Enterprises of the two countries will jointly invest, construct and operate the landmark project at Hinkley Point nuclear power station in the UK.
During the just concluded 18th China-ASEAN (10+1) leaders' meeting in Kuala Lumpur, the Premier said that China regards ASEAN as an important element of international capacity cooperation.
Meanwhile, the 14th prime ministers' meeting of the Shanghai Cooperation Organization (SCO) will be held on Dec 14 in Zhengzhou with capacity cooperation playing a major role.