Premier Li Keqiang extended a video message on Feb 26 to the G20 Finance Ministers and Central Bank Governors Meeting that has been convening in Shanghai.
This year, the G20 Summit will be held in Hangzhou in September under the theme of "Towards an Innovative, Invigorated, Interconnected and Inclusive World Economy".
It will be the first time that China hosts the G20 Summit, which Premier Li said will serve to build consensus, promote cooperation and enable action.
Premier Li urged G20 members to keep in mind not just their own growth, but to look after the spillover effects when formulating national macroeconomic policies.
Moreover, the Premier called on innovation, deregulation, more competition and greater openness to reinvigorate the economy, as well as continuous efforts to advance reform of international financial institutions.
Last year, China's growth rate was one of the highest among major economies in the world with remarkable progress in structural adjustment. The country created over 13 million new urban jobs, including those for the millions of college graduates.
Premier Li said the Chinese economy, which has great potential, resilience and flexibility, will expand aggregate demand as appropriate, and focus on structural reforms in the face of risks and challenges.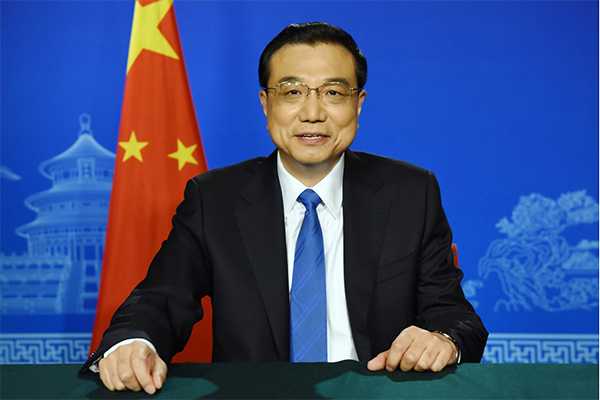 [Photo/Xinhua]
"We will press ahead with supply-side structural reform, and continue to streamline administration, delegate power, enhance regulation and improve services," he said.
In addition, the Premier said China will continue with market-oriented and rule-based financial reform, and pursue a managed floating exchange rate regime based on market demand and supply.
"There is no basis for continued depreciation of the RMB exchange rate. It will stay basically stable on an adaptable and equilibrium level," he said.