Premier Li Keqiang presided over the 1st Lancang-Mekong Cooperation (LMC) Leaders' Meeting on March 23 in Sanya of South China's Hainan province.
Focusing on the meeting's theme "Shared River, Shared Future", Premier Li exchanged ideas about cooperation and the development of the Lancang-Mekong countries with attending state leaders, including Thai Prime Minister Prayut Chan-o-cha, Cambodian Prime Minister Hun Sen, Lao Prime Minister Thongsing Thammavong, Vice President of Myanmar Sai Mauk Kham and Vietnamese Deputy Prime Minister Pham Binh Minh.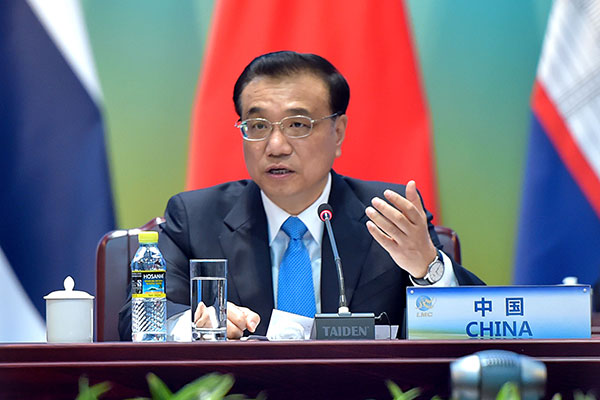 Premier Li said that China and the five Lancang-Mekong countries, with their geographic proximity and traditional friendship, are natural partners and friendly neighbors. The six countries have built a comprehensive strategic partnership with shared interests and a solid basis of cooperation.
The LMC mechanism comes as a natural result and it is beneficial to motivate inherent development potential of the six countries and bring new vitality to Asia's development, the Premier added.
The five countries along the Mekong River are important ASEAN members and China firmly supports ASEAN integration, the Premier said. Moreover, the LMC mechanism will supplement the China-ASEAN cooperation framework. Meanwhile, the LMC is also a new practice of the south-south cooperation and it shows our firm determination to achieve the sustainable development goals of the United Nations in 2030.
Premier Li pointed out that strengthening the cooperation between the Lancang-Mekong countries, and improving their relationships are the common wishes of the people in this region. Member countries should work together to seek cooperation and promote development, and join hands to build a community with a common destiny of unity and consultation on the basis of equality and win-win cooperation.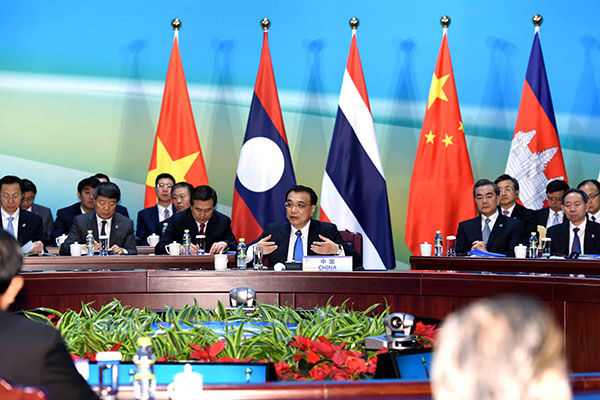 He also said that a peaceful regional environment not only is a necessity for Asia's development, but also benefits Lancang-Mekong subregion countries, and it is also a prerequisite for development and cooperation. China and the five Lancang-Mekong countries have long traditions of mutual benefits, peaceful coexistence and helping each other, which are also the advantages for cooperation among them.
Having good neighbors is a good fortune, so the member countries should take advantage of a mature communication mechanism. As long as the countries can be honest to one another, communicate to solve problems, they will continuously improve the mutual trust, securing a peaceful and stable environment in the Lancang-Mekong subregion.
Premier Li said that four principles should be followed to achieve this.
First, work together to promote peace and stability. No matter how the international and regional situations change, countries along the Mekong River are an inseparable community of common destiny. Member countries should make efforts to contribute to the national and regional development and security.
Second, put the priority on development. Development is the top priority project for the Lancang-Mekong cooperation, and the countries should utilize their own strengths to help others. Development principles of the countries should be coordination, complementary advantages, pragmatic and forward-looking, open and inclusive and they should also take part in cooperation with co-consulting, co-building and sharing to achieve common development.
Third, promote cooperation based on projects. At this stage, we should make cooperation in the fields of interconnectivity, production capacity, cross-border economy, water resources, agriculture and poverty alleviation, while carrying forward the determined LMC early harvest projects step by step.
Fourth, promote openness and inclusiveness. The Lancang-Mekong Cooperation is not an exclusive mechanism. As the three pillars of LMC are highly coordinated with those of the ASEAN community, we welcome the participation of other ASEAN countries. The LMC mechanism will develop together with others such as the Greater Mekong Subregion Economic Cooperation Program (GMS).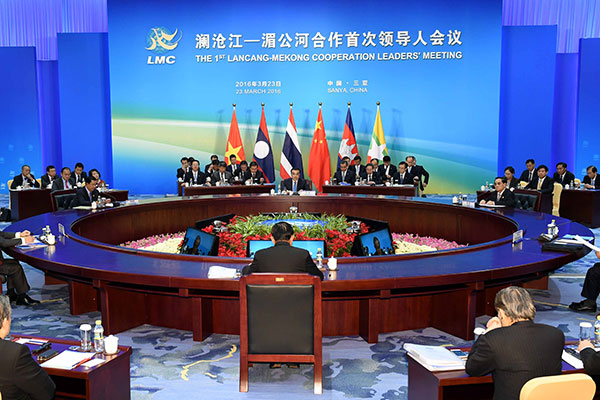 Premier Li stressed that the economy of China and Mekong countries shows a strong momentum of development even though there are some new challenges we may face. Through Lancang-Mekong cooperation, we will have more ways to cope with downward pressure and promote our own development.
The Premier offered four proposals on the future development of Lancang-Mekong cooperation:
First, jointly build a community of common destiny. We will enhance mutual political trust, maintain high-level exchanges, exchange experience in governance, and support each other to stick to the road of development according to each country's national condition, said the Premier. We will carefully cultivate a unique LMC culture, lay a concrete foundation for the community of common destiny of Asia with efforts on strengthening solidarity, equal consultation, reciprocity and mutual benefit, and win-win cooperation, he said.
Second, strengthen interconnectivity and capacity cooperation. China has signed or is negotiating the document of "Belt and Road" cooperation with countries along the Mekong River. China is willing to strengthen strategic coordination with all parties. Efforts should be made in accelerating major projects such as the China-Laos railway, China-Thailand railway, and China-Myanmar water-land transportation, discussing the establishment of economic zones, industrial parks, investment zones, and transport networks at border regions along the Lancang and Mekong rivers, and improving the region's infrastructure.
Cooperation should be strengthened in sectors of basic infrastructure, engineering machinery, electricity, construction material, and telecommunication. Through capacity cooperation, China can help countries along the Mekong River industrialize further and is willing to set up preferential loans to support the region's infrastructure construction and capacity cooperation projects. China will promote platforms such as the Asian Infrastructure Investment Bank and Silk Road fund to support cooperation and development of basic infrastructure in the Lancang-Mekong region. Efforts should be made to further promote settlement in the local currency of trade and investment with countries along the Mekong River, improving cross-border RMB settlement, and raising the scale and level of Lancang-Mekong subregional trade.
Third, focus on issues of sustainable development. China will continue to implement the Cooperation Initiative on Poverty Reduction and demonstration poverty-reduction projects in countries along the Mekong River. Assistance funds of South-South cooperation will be used with preference to help the five countries implement targets set by the UN's 2030 Agenda for Sustainable Development. Special funds for Lancang-Mekong cooperation will also be established to support small and medium sized projects proposed by six countries. China is willing to jointly set water resource cooperation center and environment cooperation center with countries along the Mekong River, strengthening technological cooperation, talent and information exchanges and promoting green, coordinated, and sustainable development. Joint efforts will be made in cross-border disease prevention and control, and talent training for the public health sector.
Fourth, construct the bridge of people-to-people exchanges. All six countries should carry out various kinds of people-to-people exchanges in fields such as education, science and technology, culture, travel and youth. China is willing to strengthen cooperation in human resource training with the other five countries — in the next three years, 5,000 people can have the opportunity to come to China for the training; the establishment of a training center for professional education will also be discussed. China has suggested setting up a comprehensive law enforcement security cooperation center covering the Lancang-Mekong River basin. Activities such as joint law enforcement and staff training will be carried out to create a peaceful environment for related countries and their people.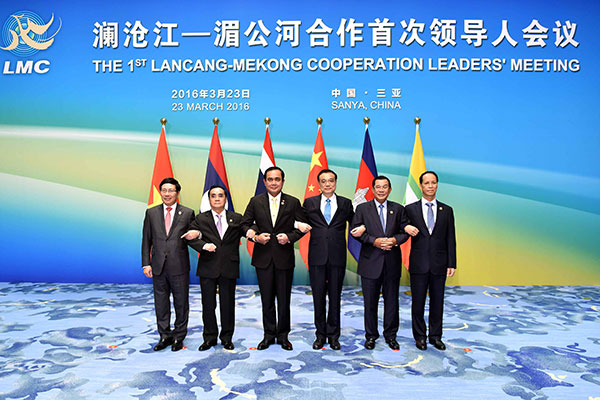 Premier Li said that this year's government work report and the 13th Five-Year Plan was discussed and approved at the two sessions. We will continue to promote structural reform and economic transformation, he said. Vigorously promoting new economies will provide investment and cooperation opportunities for countries along the Lancang-Mecong River as well as Asian regions as a whole, the Premier said. China is willing to work together with all parties to promote sustainable and continuous development for Lancang-Mekong cooperation, as well as the improvement of people's livelihood. It will help to promote the China-ASEAN cooperation and make new contributions to the peace and stability in Asia and prosperity of the world, the Premier added.
Foreign leaders at the meeting spoke highly of China's contribution in promoting Lancang-Mekong cooperation and noted that the first leaders' meeting is a milestone and shows common expectations shared by each country. Lancang-Mekong cooperation is based on a friendly neighborhood, equality, respect, mutual benefit, win-win, and sharing development. The cooperation is in line with development goals of each country and will become an example for South-South cooperation. They would like to take the opportunities with consensus to strengthen efforts in sectors including interconnectivity, capacity cooperation, cross-border economic zones construction, agriculture, poverty reduction, disaster prevention and relief, medical and public health services, environment and water resources, cultural and educational exchanges, and law enforcement and security, jointly dealing with challenges, promoting regional peace and development, bringing benefits to the countries' people. They also appreciate China's help in supplying water to the downstream areas along the Lancang and Mekong rivers and regard this as a manifestation of China's policy of good-neighborliness and friendship.
State Councilor Yang Jing also attended the meeting.