In the reform of replacing the business tax with a value-added tax (VAT), quality comes first, which means letting enterprises really benefit from the reform, Premier Li Keqiang said during an inspection visit to the State Administration of Taxation (SAT) on April 1. He added that it was not empty talk, the goal of easing the tax burden on all industries.
While guaranteeing enterprises' benefits in the tax reduction reform, preventing fake invoices from disrupting the beneficial policy is also needed, the Premier said. In 2016, expansion of the tax reform will ease taxes by more than 500 billion yuan ($76.9 billion), which should benefit enterprises with honest business management, not those with dishonest behaviors, said Premier Li.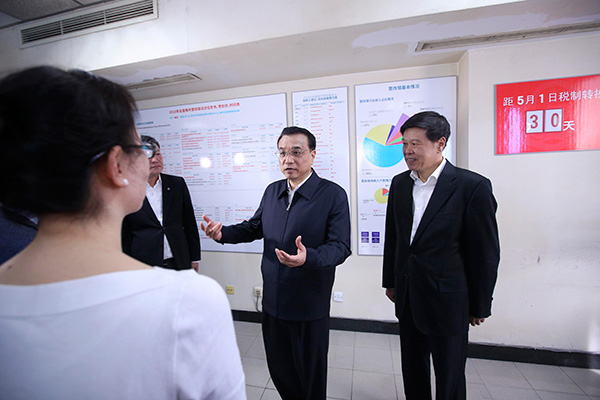 After understanding the unity of VAT invoices in different industries and regions and its online reporting system, Premier Li said that the business tax and VAT reveal the real circulation of an enterprise. The VAT reform will help understand enterprises' basic business activities and provide important data support for national macroeconomic policy-making.
Premier Li made a real-time connection with a tax service center in Zhuhai of Guangdong province during his inspection and asked questions about the tax reform. The Premier said there are a great number of micro- and small-sized companies in Guangdong, which would be the first beneficiaries of this reform. The tax reduction reform aims to ease enterprises' burden and boost overall economic development.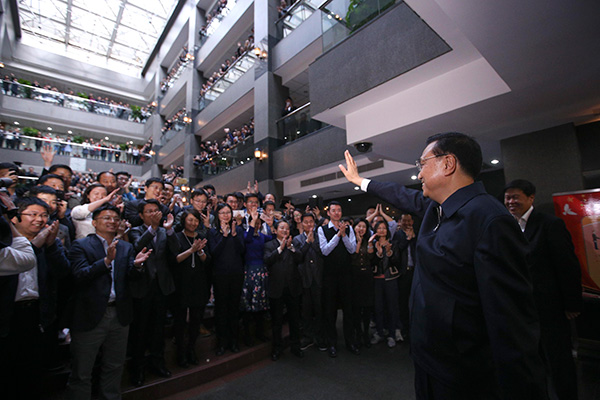 During the inspection, Premier Li also had a video conversation with a telephone operator at Beijing's tax hotline 12366 to better understand the public's concern about the tax reduction reform.
Starting May 1, the replacement of business tax with VAT will be extended to construction, real estate, finance and consumer services, to ensure that tax burdens on all industries will be reduced in order to expand China's fiscal and taxation reform.