Premier Li Keqiang called for expanding pragmatic cooperation with Sri Lanka and pushing the bilateral relations to a new stage when he met with the visiting Sri Lankan Prime Minister Ranil Wickremesinghe in Beijing on April 7.
The Premier said that China's friendship with Sri Lanka has a long tradition, and the two countries have been in good relationship under the sophisticated international situation since they set up diplomatic relations nearly 60 years ago.
The long-time harmony is the wishes of the two countries, and also the result of the efforts from the people in all circles, Premier Li said.
China is glad to strengthen high-level exchanges with Sri Lanka, deepen political trust and closely coordinate the cooperation with the country in regional and international affairs, said the Premier.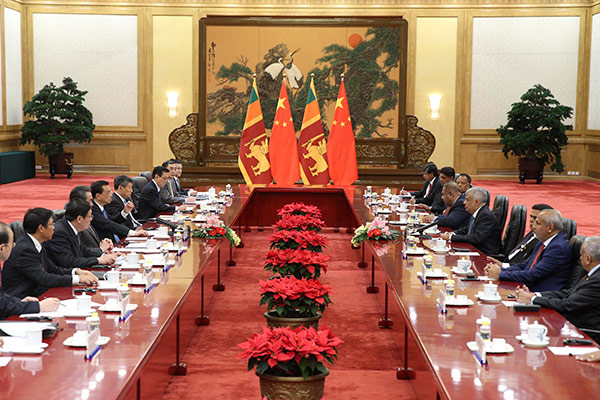 He also said that advancing the cooperation will bring benefits to the people in both sides. China welcomes the resuming of the Colombo port construction and is willing to join hands with Sri Lanka to steadily expand the construction of the project.
The Premier said he wishes both sides will speed up the negotiation of the second phase of Hambantota port project, helping Sri Lanka to be an important transfer hub in international logistics.
Both parties should strive for finishing the negotiation of China-Sri Lanka free trade agreement by year-end. China will develop industrial capacity cooperation with Sri Lankan plan to build an economic zone, and help speed up the construction of infrastructures and its industrialization process, said the Premier.
Chinese government encourages domestic enterprises to invest in Sri Lankan building of port industrial parks, special economic zones and manufacturing industry. The Premier said he wishes the move can be supported by the Sri Lanka government and to expand mutual communication in finance, technology, culture and people-to-people exchange.
Wickremesinghe said that every political party in Sri Lanka supports to develop the relation with China.
Facing new social and economic tasks, Sri Lanka is to learn from China's experiences and link its own development strategies with the Belt and Road Initiative and co-build a maritime silk road to push the industrialization process, said Wickremesinghe.
He also said that Sri Lanka will advance cooperation with China in port, airport and industrial constructions, try to reach the free trade agreement by this year and jointly push the new China-Sri Lanka strategic relationship to a new level.
Premier Li held a welcoming ceremony for Wickremesinghe before the meeting. After the talk, they witnessed the signing of several bilateral cooperation agreements that cover economic technology, justice, transportation, finance, sports and medical care.