Premier Li Keqiang said at a symposium with provincial leaders on April 11 that China should continue to promote structural reform to maintain the stable growth of its economy.
At the symposium, provincial leaders from several regions shared their views on the economic situation of this year, saying that the economic operation runs within a reasonable range with major economic indicators concerning investment, consumption, and profits of enterprises going beyond expectation, and the emergence of new growth drivers has exerted a positive impact on stabilizing employment.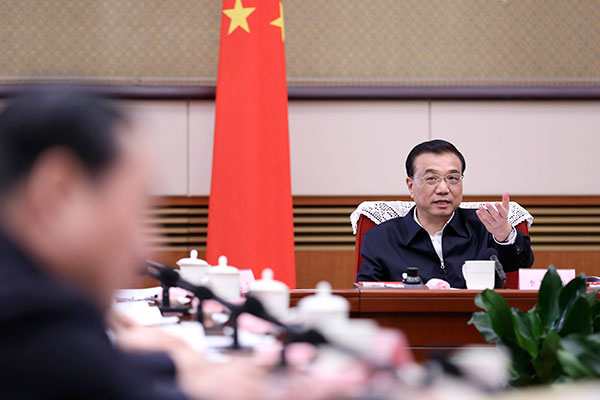 [Photo/China News Service]
While Premier Li pointed out that despite the increase of favorable factors, China's economy still faces great downward pressure.
"With the mounting of unstable and uncertain global factors and the multiple difficulties facing domestic enterprises, we need to give full play to the initiative of both central and local authorities, storing energy for the momentum in maintaining a stable and improved economic growth," Premier Li said.
The Premier urged for promotion in structural reform, especially supply-side reform to expand positive factors and keep economic operation running within a reasonable range. He also asked to continue to streamline administration and delegate powers and eradicate limitations on enterprises and ordinary people.
Meanwhile, Premier Li called for tax reductions by implementing the replacement of business tax with value-added tax, pledging to reduce tax burdens on all industries. He also urged to eliminate unreasonable fee-collections to further reduce enterprises' burden and promise to gradually reduce charges in five social insurances and one housing fund.
In terms of innovation, the Premier asked to promote mass entrepreneurship and innovation by setting up more open platforms in providing better services to propel the growth of a new economy and gathering strength for new momentum.
The Premier called for continued restructuring, speed-up of the upgrade of traditional growth drivers, elimination of backward capacity, reduction of steel and coal overcapacity and better arrangements of working staff who were affected during the process.
The Premier expressed the hope to lower the leverage rate for enterprises through maintaining reasonable market mobility, guaranteeing more financial support for the real economy and market transformation from debt to stock.
Premier Li called for expansion of domestic demand through taping the elasticity and potential of the economy.
He called for better use of special construction funds, increase of the sum of local government debt swap, absorption of more social capital so as to ensure the operation of the newly-launched projects.
"We need to increase support for the new type of urbanization and agriculture modernization, develop medium and small cities as well as small towns in central and western China," said the Premier.
"We need to target the new demand so as to bolster the improvement of products and services and release new domestic demand potential," said the Premier.
The Premier stressed that the final goal of development is to improve people's lives. But currently, some enterprises and local governments are running into difficulties.
He called on all regions and departments to shoulder the responsibility of ensuring the livelihood and take more effective measures to stabilize employment, especially the employment of university and secondary vocational school graduates as well as demobilized servicemen, to maintain stable agricultural products, guarantee the basic living of the impoverished and the full and on-time payments of pensions.
Premier Li called on cadres at various levels to live up to their duty and respond to social concerns so to bring better development and improve people's lives.
Vice-Premiers Zhang Gaoli, Liu Yandong, Wang Yang and Ma Kai and State Councilors Yang Jing and Wang Yong also attended the symposium.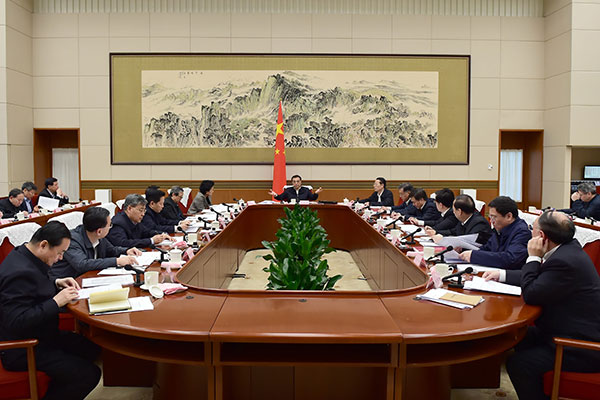 [Photo/Xinhua]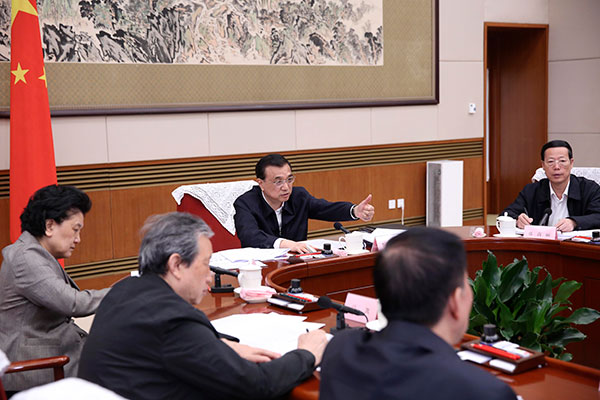 [Photo/China News Service]