Premier Li Keqiang vowed to promote production capacity cooperation with Nigeria during a meeting with Nigerian President Muhammadu Buhari in Beijing on April 13.
Premier Li hailed the comprehensive China-Nigeria relations and the mutually beneficial cooperation achievements made since the establishment of the diplomatic ties between the two countries 45 years ago.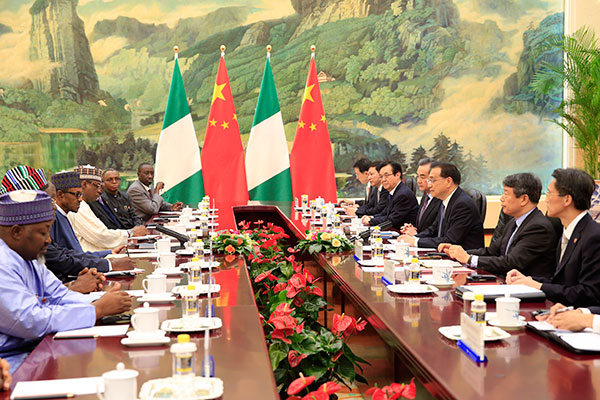 [Photo/China News Service]
The Chinese side is willing to promote cooperation with Nigeria in infrastructure construction such as railways, highways, and hydroelectric stations.
China is ready to promote the building of free trade areas and expand agricultural technology transfers and investments while enhancing cooperation in aviation, mining, and finance, said the Premier.
China also encourages its enterprises to invest in Nigeria, hoping the Nigerian side will offer more support for them, said the Premier.
Currently, China's economy is generally stable and on the rise. The economy is still running within a reasonable range and with positive factors increasing, said the Premier.
"This is not easy for an economy like China with an economic output of over $10 trillion".
"With the sluggish global economic recovery, we need to overcome various difficulties and challenges to maintain a medium-to-high economic growth," said the Premier.
"As the largest economy in Asia and Africa, China and Nigeria have huge mutually beneficial cooperation potential," said the Premier.
"We are willing to work with the Nigerian side to promote common development and prosperity and make contributions to regional and global economic recovery and growth," said the Premier.
Buhari said that China has made remarkable achievements in economic development and social stability and thanked China for having long regarded Nigeria as a cooperative partner and its help for the development of Nigeria.
Buhari said the Nigerian government is willing to work with China to promote the cooperation in the infrastructure construction of coastal railways, highways, and hydropower stations, as well as strengthening cooperation in agriculture, mining, and manufacturing, thus lifting the Nigeria-China cooperation to a new level.