Premier Li Keqiang delivered a speech while attending the eighth Chinese-German Forum for Economic and Technological Cooperation on June 13 with German Chancellor Angela Merkel.
Premier Li said that practical cooperation is the core of China-Germany relations. The two countries promote an open market equally to reach a new level of cooperation. China will be more open to the world, and provide more investment opportunities for domestic and overseas investors in all fields, especially in the new economy. China will create an equal environment for enterprises registered in China, whether joint venture or sole proprietorship.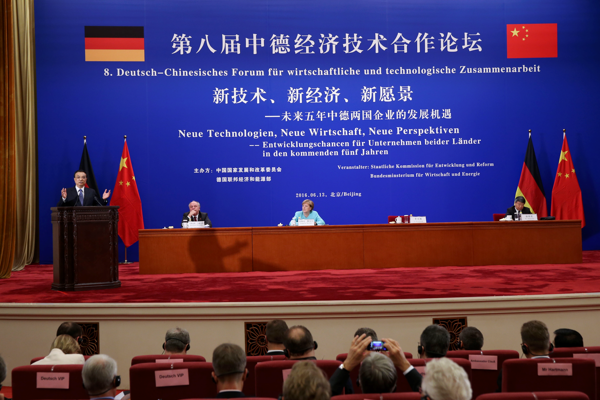 The Premier expressed that with the expanding of cooperation between China and Germany, economic and trade fractions may also increase, but proportion will be gradually decreased.
As long as China and Germany focus on the bigger picture, equally opening to each other, they will increase mutual understanding, deal well with problems they meet, and achieve great success in China-Germany cooperations, said the Premier.
Merkel said that China and Germany are each other's important export market, and partners in research and innovation. Both countries should join hands to connect development strategies, tap potentials, focus on expanding third-party market to explore more cooperation possibilities, she said.
The forum, jointly hosted by the National Development and Reform Commission and Germany's Federal Ministry for Economic Affairs and Energy attracted nearly 800 attendees. The theme of the forum is "New technology, new economy, new vision - development opportunities for enterprises from both countries in the next five years".