Premier Li Keqiang and German Chancellor Angela Merkel attended a symposium of China-Germany Council of Economic Adviser together at the Great Hall of the People on June 13. They held talks with representatives in economic circles from both countries.
Enterprise leaders from both China and Germany exchanged their views and advice on production capacity cooperation, third party market cooperation, and trade and investment environments. These enterprises include Siemens, Thyssenkrupp and ALBA Group from Germany, as well as China Railways Corporation, CRRC Corporation Limited, and Baosteel Group from China. Premier Li and Chancellor Merkel delivered speeches after hearing reports from their enterprises.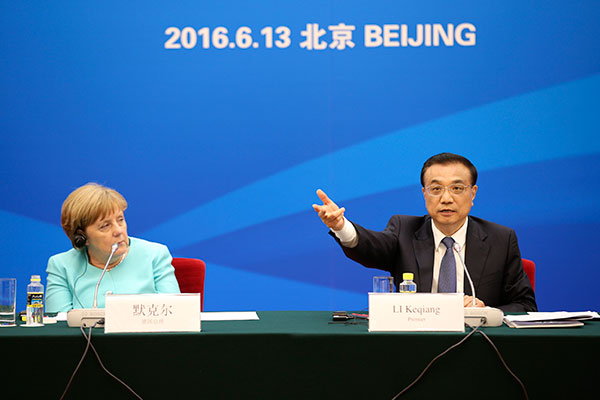 Premier Li said that the frank and perspective discussions in the symposium have pushed Chinese and German enterprises to discuss cooperation opportunities and offer advice to their governments. Enterprises from both countries are concerned about the market access and business environment in each other's country.
Premier hopes representatives will enhance communication, exchange ideas, break barriers of information asymmetry and build a better future for China-Germany pragmatic cooperation.
The Premier pointed out that China has made great progress in reform and opening-up over the past three decades and will ease market access in the future in order to provide more and bigger investment opportunities for investors from both home and abroad.
The Premier said he wishes Germany to open equally to each other and reach a consensus. China will continue to improve the protection system of intellectual property rights, enhance law enforcement, protect the legal rights and interests for enterprises, scientific personnel and the general public, and stimulate their entrepreneurship and innovation initiatives so as to push the transformation and upgrading of Chinese economy.
Premier Li noted that some excess production capacity is because of the weak economic recovery in the world. All countries should work together to address the problem and a trade war wouldn't benefit any country. All countries should, in the spirit of cooperation, address challenges together, get rid of risks and maintain trade liberalization.
Merkel said that the China-Germany Council of Economic Adviser is an effective mechanism to promote economic cooperation for both countries.
"Premier Li and I have conducted in-depth communications and achieved much consensus on the issues that enterprises from both countries are concerned," she said.
Both countries should make full use of the council and further enhance dialogues, set clear directions and expand cooperation, she added.
Entrepreneur representatives said that China and Germany are important cooperation partners to each other and have achieved fruitful results in the field. There is still great potential for development. Enterprises of the two countries will seize the opportunity and connect the initiatives of China's Made in China 2025 and Germany's Industrial 4.0. It is expected that the two governments continue to create an equal and open market environment for the business circle.