Premier Li Keqiang said China will continue its prudent monetary policy and proactive fiscal policy, maintaining reasonable growth in aggregate credit, to better serve the real economy.
The Premier made the remarks at a seminar after a visit to China Construction Bank and the People's Bank of China, the central bank, on June 20.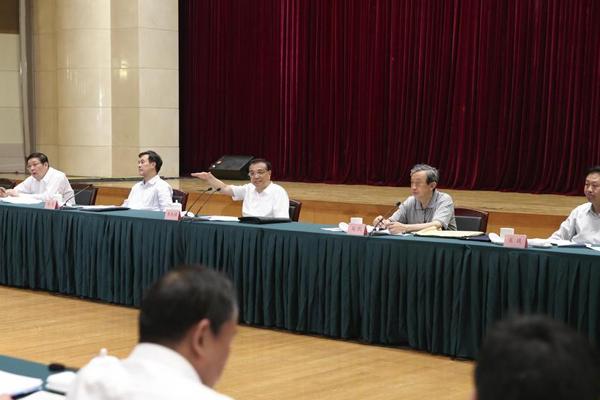 Premier Li Keqiang (C, back) presides over a symposium in Beijing, capital of China, on June 20, 2016. Premier Li visited China Construction Bank and the People's Bank of China, the central bank, and presided over a symposium on June 20.[Photo/Xinhua]
China should maintain its prudent monetary policy, enhance the monetary policy coordination with the proactive fiscal policy, make policies more flexible and targeted, lay stress on pre-emptive policy adjustment and fine-tuning, and maintain reasonable credit growth, he said.
While China's financial sector has supported economic development, global economic growth is still weak and some regions and industries in the country are faced with major difficulties, he said.
Premier Li said multiple policy tools should be used to keep liquidity reasonably ample, guide market expectations, and create a good financial environment for dealing with risks and challenges and promoting continuous and stable economic growth.
The Premier also called for the implementation of differentiated financial policies so as to support supply-side structural reform.
Commercial banks must improve in serving the real economy, small and micro businesses in particular, the Premier said.
To better serve the real economy, the financial sector should increase support for the agriculture, farmers, and rural areas, he said.
The Premier also pointed to private investment and the new economy, such as logistics, energy saving, environmental protection and smart manufacturing, as fields that deserve more financial support.
Premier Li stressed the importance of reform in the efficiency of the financial sector and in preventing financial risk.
Private banks and consumer finance companies should develop in an orderly manner and steps should be taken to promote regional equity markets for small and medium-sized enterprises, he added.
On financial regulation, the Premier urged better oversight of abnormal trans-border capital flow and risks stemming from Internet finance, so as to prevent systemic or regional financial risks.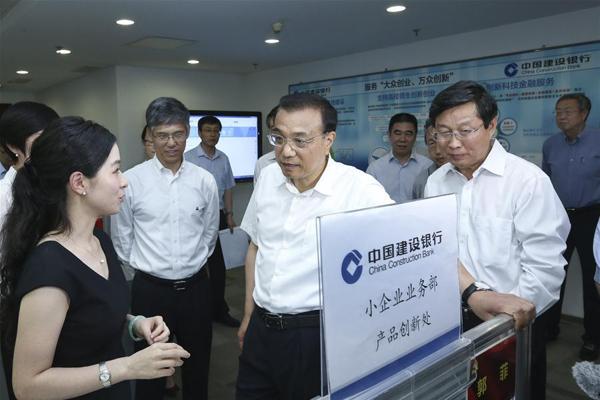 Premier Li Keqiang (C, front) visits China Construction Bank in Beijing, capital of China, on June 20, 2016. Premier Li visited China Construction Bank and the People's Bank of China, the central bank, and presided over a symposium on June 20.[Photo/Xinhua]