Premier Li Keqiang co-chaired the 18th summit between China and the European Union with European Council President Donald Tusk and European Commission President Jean-Claude Juncker in Beijing on July 12.
As two major forces in maintaining world peace and development, China and the European Union should keep close communication and cooperation, sending positive signals to the world amid complex international political and economic developments, according to Premier Li.
"China firmly supports European integration and is willing to see a prosperous and stable European Union," said the Premier. He also said that China is willing to make joint efforts with the European Union to consolidate political mutual trust, implement cooperation consensus, and promote the well-being of both Chinese and European people as well as world peace and prosperity.
Premier Li spoke highly of the development of pragmatic cooperation since the 17th summit between China and the European Union.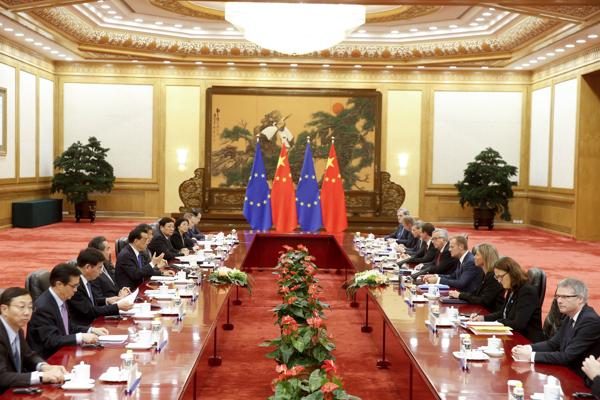 China hopes the agreement on high-level bilateral investment could be reached and the feasibility research regarding free trade starts as soon as possible.
Based on the platform construction of inter-connectivity between China and the European Union, efforts should be made to boost cooperation in infrastructure sectors, strengthen cooperation with Central and Eastern Europe as well as Southern Europe, said Premier Li. Cooperation in sectors such as 5G communication technology should also be enhanced, with an effort to strengthen cooperation in innovation, research and internet security, as well as promote maritime cooperation and people-to-people exchanges.
Premier Li stressed the pragmatic and win-win cooperation between China and Europe. He noted that stopping basing its anti-dumping investigation against China on the "surrogate country system" is the EU's obligation stated in Article 15 of Agreement on China's Entry into WTO, which should not depend on the national standards of any EU member, or be aligned with any other issues. Both sides should conduct cooperation in accordance with international rules, honor their commitments, and properly resolve other issues through dialogue and negotiation.
Donald Tusk and Jean-Claude Juncker expressed condolences and sympathies over the death of China's peacekeepers in South Sudan.
They noted that Europe and China are two major economies in the world, and the establishment of good and stable partnership between them is of great significance to the stable growth of world economy and addressing common global challenges.
Positive results have been achieved in China-Europe cooperation over the year. And EU is willing to strengthen dialogue and negotiation with China, deepen cooperation in various fields including trade and investment, innovative R&D and inter-connectivity, facilitate the negotiation on EU-China bilateral investment agreement, and continue to promote the development of EU-China comprehensive strategic partnership, so as to jointly make contribution to the world's peace and prosperity.
The EU is also willing to make efforts to fulfill its obligations stated in Article 15 of the Agreement on China's Entry into WTO.
Talking about the South China Sea issue, Premier Li said that the Chinese government neither accepts nor recognizes the award of an arbitral tribunal in the South China Sea arbitration established at the request of the Philippines. As one of the countries involved, China is concerned about and dedicated to the peace and stability of the South China Sea area, and is willing to settle disputes through negotiations and in accordance with the Declaration on the Code of Conduct on the South China Sea and international laws.