Premier Li Keqiang and European Commission President Jean-Claude Juncker attended the 11th EU-China Business Summit and delivered speeches, at the Great Hall of the People in Beijing on July 13.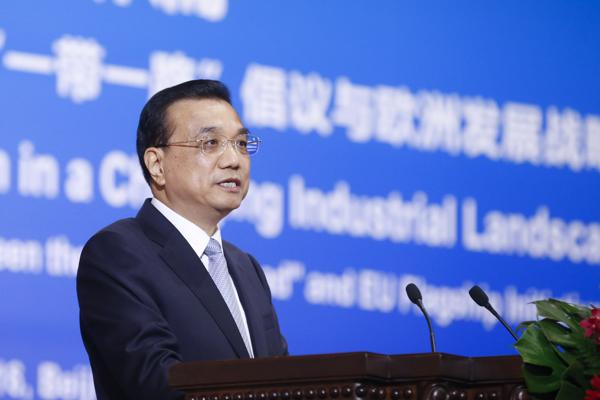 Premier Li noted that China has always viewed its relations with EU from a strategic and long-term perspective, and firmly supported European integration. Enhanced cooperation between China and Europe is not only in line with the common interests of both sides, but also contributes to world peace and development, he added.
He also noted that despite the sluggish world economic recovery, the strong growth momentum in China-EU investment cooperation shows that the development of both sides offers opportunities for each other. He hoped that both sides will, in the spirit of "mutual respect, mutual trust, equality, openness and mutual benefit", continue to deepen the implementation of China-EU 2020 Strategic Agenda for Cooperation, and better align their development strategies, in order to continue opening up new horizons for China-EU relations and cooperation.
The Premier said that China is willing to join efforts with EU to build a peaceful and stable environment, advocate peaceful settlement of disputes through negotiations, and handle differences in a constructive way, to make positive contributions to safeguarding world peace and development.
He called for exploring the potential in bilateral trade cooperation, further opening markets on both sides, and proper settlement of trade disputes to promote trade and investment liberalization and facilitation.
The Premier urged both sides to speed up negotiations on a bilateral investment agreement, and welcomed EU's investment in China's advanced manufacturing, modern services and Midwest regions. He also hoped that EU will also take measures to facilitate Chinese enterprises' investment in Europe.
The Premier called on both sides to strengthen cooperation in finance, innovation and inter-connectivity to promote the comprehensive and balanced development of China-EU pragmatic cooperation.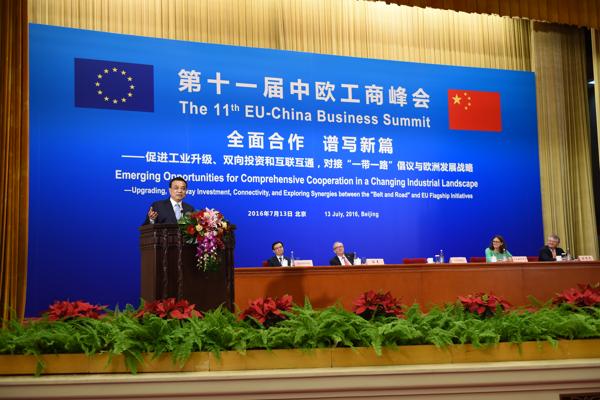 Premier Li stressed that opening up is China's basic State policy. China will continue to reform the management system of foreign investment and gradually implement the pre-establishment national treatment and negative list.
Enterprises will be treated equally, market access will be further relaxed and protection on intellectual property rights will be strengthened, to create a more fair and transparent business environment, according to the Premier.
Talking about the Chinese economy, the Premier said that it is running in a stable manner as the second quarter witnessed a stable growth momentum.
Amid complex international and domestic challenges, efforts will be made to maintain stable macroeconomic policies, develop new economies and new economic engines, and upgrade traditional driving forces. "China has the ability to accomplish this year's economic and social development tasks. This will also provide the European Union and European companies with more business opportunities," he said.
Juncker said that both sides have witnessed great achievements since the establishment of diplomatic relations 40 years ago. Currently, as both European Union and China are advancing economic structural adjustment, there is huge potential for mutual cooperation.
The European Union is willing to make joint efforts with China to strengthen the partnership, coordinate development strategies, make good use of the inter-connectivity platform, promote innovation cooperation, and boost negotiations for a bilateral investment agreement, according to Juncker.