The State Council held its first swearing-in ceremony to uphold the Constitution, administered by Premier Li Keqiang in Beijing on Sept 18.
Fifty-five new heads of the 33 State Council departments and affiliated agencies swore to uphold the Constitution, as required by two documents that require officials to take an oath to the Constitution.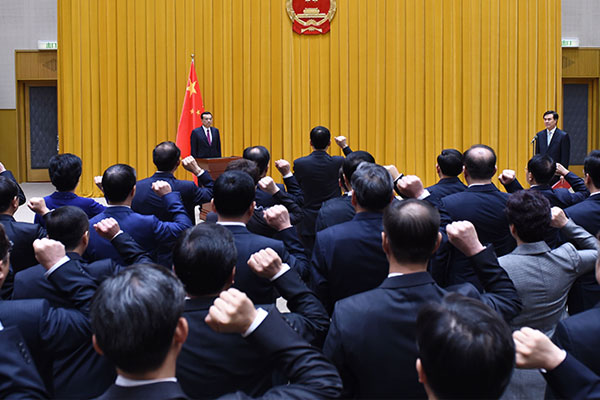 In the solemn ceremony at the small hall of the State Council, the Constitution of the People's Republic of China was placed on the oath-taking platform. Yang Jing, state councilor and secretary-general of the State Council, announced the beginning of pledges.
Facing the national flag, everyone stood up and sang the national anthem. The leader of the oath ceremony placed his left hand upon the Constitution, raised his right fist, and took the oath. Then others lined up, raised their right fists and repeated the oath.
"I pledge: allegiance to the Constitution of the People's Republic of China, to safeguard the Constitution's authority, perform obligations required by law, to be loyal to the country and people, be committed and honest in performing duties, accept people's supervision, and work hard to build a socialist country that is prosperous, strong, democratic, culturally advanced, and harmonious."
Premier Li then urged everyone to fulfill the pledge to be committed and honest in performing their duties with unremitting efforts.
Also attending the ceremony were vice-premiers -- Zhang Gaoli, Wang Yang, and Ma Kai -- state councilors -- Chang Wanquan, Yang Jiechi, Guo Shengkun -- as well as senior officials from other departments under the State Council.
The Constitution is China's fundamental law. The Standing Committee of the 12th National People's Congress adopted a rule to implement the oath-taking system in July 2015.
The executive meeting of the State Council held on July 20 approved a plan that specified the format and procedures for the pledges and oath-takers, in a bid to advance the rule of law, inspire and educate government officials to stay loyal to, abide by and safeguard the Constitution and fulfill their duties in accordance with the law, as well as to promote the building of a law-based government.