New driving forces should play a major role in boosting the economy while the old ones should be revitalized, Premier Li Keqiang said during a trip to Dongguan, Guangdong province, earlier this month.
Renowned as the "world's factory", Dongguan used to focus on making garments and shoes. But now the city is transforming its economic developing mode as new driving forces such as information technology industry are growing rapidly.
Dongguan is only a miniature version of China's economy, which is witnessing major transformation and upgrades toward a higher level.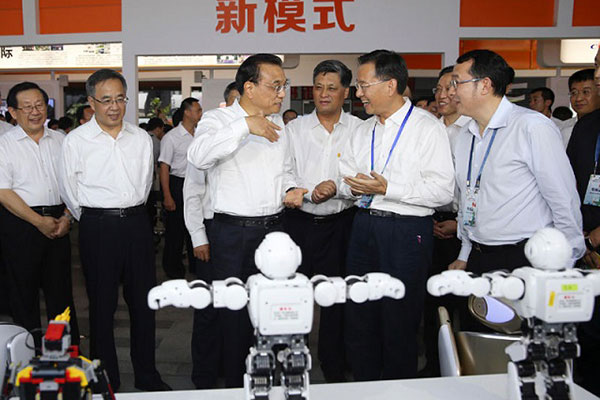 Premier Li inspects an innovation exhibition in Shenzhen, Guangdong province, on Oct 12, 2016.
In the past nine months, high-tech industry, equipment manufacturing industry and strategic emerging industries saw 10.6 percent, 9.1 percent and 10.8 percent year-on-year increases, respectively, while investment in high-tech industry and service industry had growth of 15.6 percent and 11.1 percent, faster than traditional industrial driving forces.
Mass entrepreneurship and innovation, a policy put forward by the Premier three years ago, is still in the process of boosting and revamping China's economy.
In the past three quarters, 14,600 new companies were registered every day, and registered patents saw a 51.3 percent year-on-year increase.
Investment by Chinese companies increased from $1.2 billion in 2005 to $39.4 billion in 2015. In addition, China spent 1.4 trillion yuan on research and development in 2015, second only to the United States.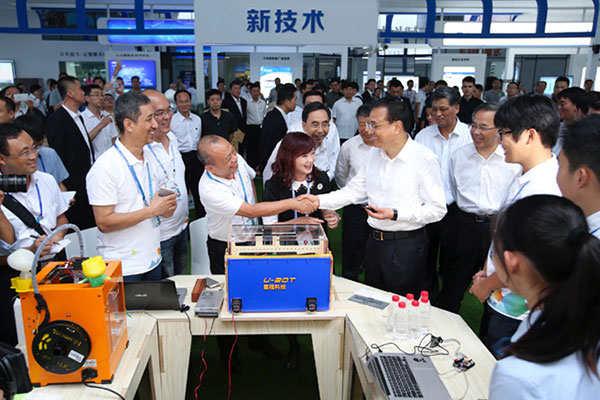 Premier Li inspects an innovation exhibition in Shenzhen, Guangdong province, on Oct 12, 2016.
Transformation of the economy also is having an impact on people's daily life.
With the development of internet technology and business mode, people nowadays can do everything on their cellphones, including shopping, hailing taxis, and registering for medical services.
Such changes also boosted the internet plus industries as online retail sales increased 25.1 percent year on year, 14.7 percent faster than the total retail sales.
"Even though the economic growth rate is disappointing in other regions of the world, China's economy is running on the right track," said Hao Fuman, a senior official from the World Bank.