Premier Li Keqiang heard suggestions and advice on economic development and livelihood improvement from experts and enterprise executives at a symposium on Nov 14.
At the meeting, representatives from colleges and universities, research institutions, enterprises, hospitals and housing security centers made speeches focusing issues like current economic situations, economic trends and steps to improve people's livelihood.
All the representatives agreed that China's economy is witnessing a steady increase, with data in the first nine months beating expectations. Many highlights include structure adjustment and livelihood improvement, accelerating new growth momentum and improving enterprises' efficiency, which all support China's confidence in future economic development.
Premier Li held discussions with those representatives, saying that China has the confidence to complete this year's economic and social development targets. However, increasing uncertainties in the international environment and differentiation in domestic and industrial economy pose great challenges.
To push economic growth and new development concepts, efforts should be made to consolidate steadiness, introduce practical measures on growth drivers, appropriately expand overall needs, forcefully promote supply-side reform and stress quality and efficiency improvement with an effort to enhance positive economic development, according to the Premier.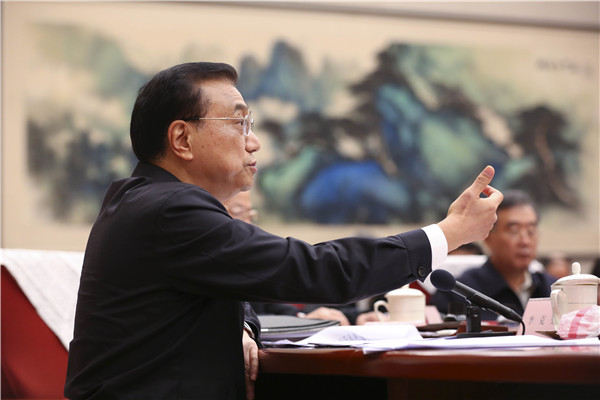 Premier Li Keqiang chairs a symposium on economic development and livelihood improvement on Nov 14. [Photo/China News Service]
Premier Li went on to say that economic restructuring and upgrades should be achieved through accelerating the transformation of economic growth drivers. In recent years, new growth development has been beyond expectation while also revitalizing traditional growth drivers, with positive changes in economic structure. Especially amid downward economic pressure, a record-breaking number of college graduates and increasing laid-off and relocated workers generated by overcapacity cutting, new growth development provides strong support for stabilizing employment.
Currently the differentiation in domestic and industrial economy is breeding both challenges and hopes, said Premier Li. To strengthen real economy, an innovation-driven development strategy should be fully promoted to increase total factor productivity.
Social forces should be encouraged to make use of such platforms as Internet Plus, develop mass entrepreneurship and innovation, promote Made in China 2025 and improve China's manufacturing level and market share to upgrade the economy and traditional industries, said the Premier.
Premier Li also said that we should comprehensively deepen reform and add vitality for development. "China is possessed with more than 900 million labor forces, and 170 million talents who have received higher education and professional training, which are the largest treasure for development", the Premier said.
Meanwhile, the Premier urged further advancement in streamlining administration, delegating power, strengthening regulation and improving service. In addition, he called for breaking all kinds of unreasonable thresholds and restraints to safeguard a fair and competitive market environment, reduce the institutional transaction costs and take multiple measures to alleviate financing difficulty.
"These attempts are to create an environment encouraging of entrepreneurship and tolerant of failure, unleash more market vitality and social creativity and expand development spaces for higher-level of opening up", said the Premier.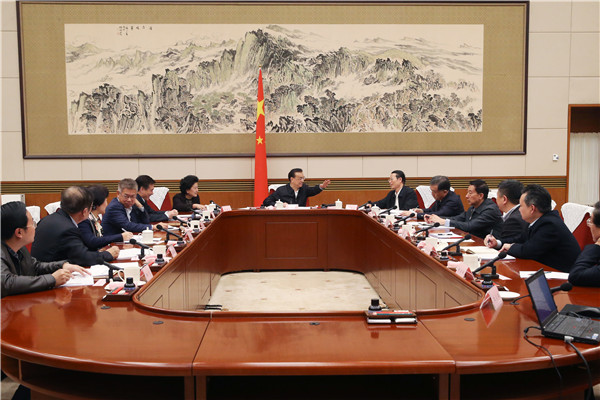 Premier Li Keqiang chairs a symposium on economic development and livelihood improvement on Nov 14. [Photo/Xinhua]
He also stressed that the fundamental purpose of development is to ensure and improve people's livelihood, respond to concerns and meet the needs concerning their livelihood, which in turn will drive development.
Given the current challenges of balancing financial revenue and expenditure, the Premier called for efforts to stabilize employment and defend the "bottom line" of people's livelihood in such sectors as the pension payment.
Meanwhile, the Premier encouraged the deepening of medical reform, innovative mechanisms and promoting the coordination of medical insurance and medical treatment and resources integration of key hospitals and grassroots clinics, so as to provide the public with medical services of higher quality and lower cost.
He also called for stepping up housing support, accelerating the establishment of public rental houses for university graduates and immigrant labors and promoting shantytown renovation.
The Premier called on every department to make efforts to stabilize growth, promote reform, adjust structure, benefit people's livelihood, prevent risks, reinforce policy interpretation and reasonably guide market expectancy.
Vice-Premiers Zhang Gaoli, Liu Yandong and Wang Yang, and State Councilors Yang Jing and Wang Yong also attended the symposium.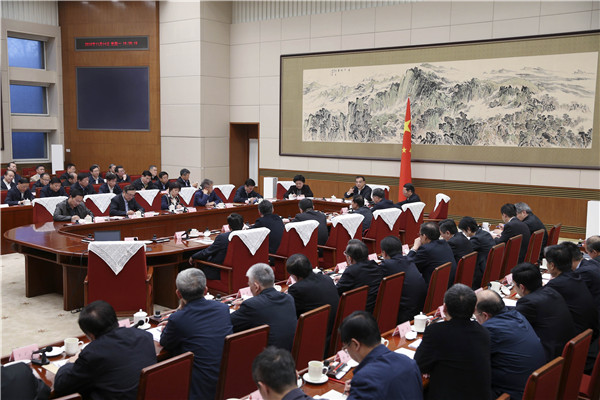 Premier Li Keqiang chairs a symposium on economic development and livelihood improvement on Nov 14. [Photo/China News Service]