Since the founding of the Shanghai Pilot Free Trade Zone on Sept 29, 2013, Premier Li Keqiang has paid three visits there, showing his remarkable care about the testing field of China's reform.
In fact, he visited the area in March 2013, when it was still a "bonded area". It was this visit that helped establish the first pilot free trade zone in China.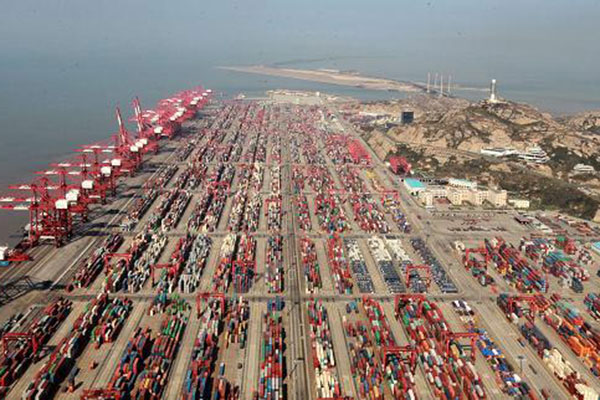 "Constructing Shanghai FTZ is the government's self-revolution"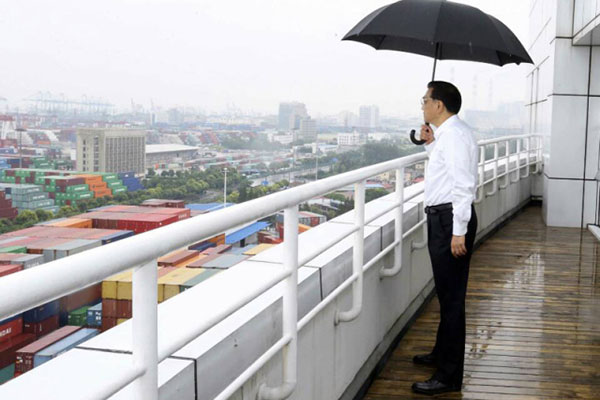 The mission of the Shanghai Free Trade Zone is to explore the proper relationship between the government and market, establish negative list management and continue financial reform, the Premier said when he visited there from Sept 18 to Sept 19, 2014.
It was just days before the free trade zone's anniversary.
He said constructing the free trade zone is a self-revolution of the government, a new move to cut administrative procedures and give the market more say.
He also asked companies to submit questions and suggestions to the government.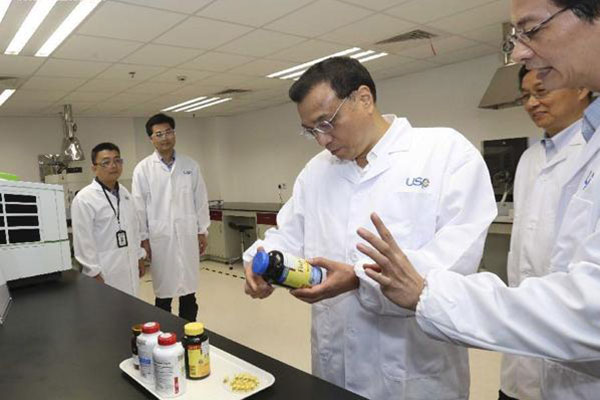 "Removing barriers to productivity and entrepreneurship"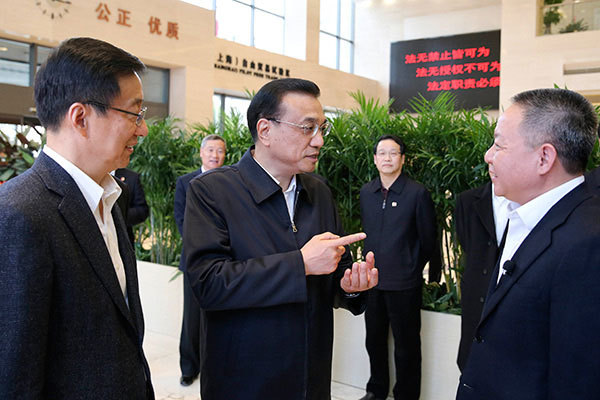 While visiting Shanghai again on Nov 25, 2015, Premier Li said the free trade zone should serve as an "icebreaker" of China's reform by trying some groundbreaking measures first.
He urged Shanghai municipal government to submit an administrative reform plan that aims to cut registration procedures for new companies to the State Council as soon as possible, so that it can be carried out without delay in some areas.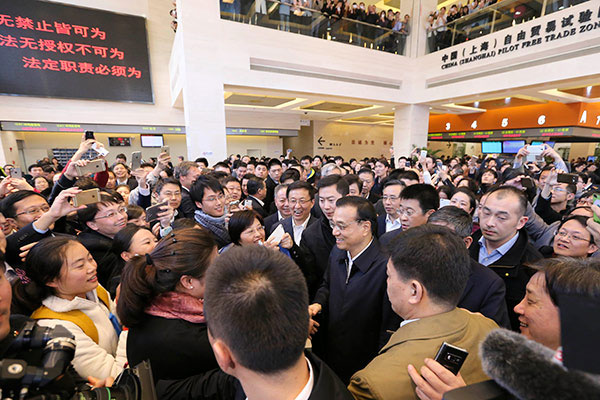 "When we say cutting administrative procedures, we mean removing the barriers that hinder productivity and entrepreneurship," he said.
"Front-runner of reform"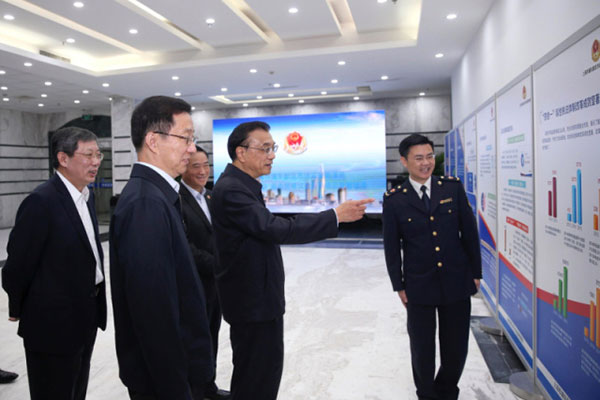 The Premier came here again on Nov 21, 2016 when the Shanghai Free Trade Zone was three years old. It has become the front-runner of China's reform, expanding from 28 square kilometers to 120 sq km and introducing its measures to 10 new free trade zones in other regions, including Guangdong, Tianjin and Fujian.
Premier Li launches a "double inspection" in Shanghai FTZ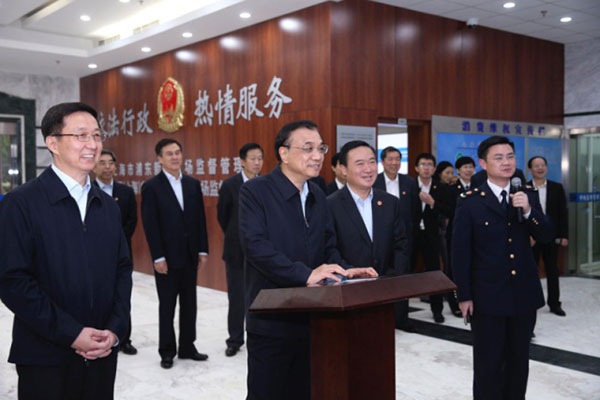 On Nov 21, Premier Li experienced the online regulating platform by clicking the button to randomly choose a dozen staff to inspect 27 food companies.
Premier Li hails supervision system efforts in Shanghai FTZ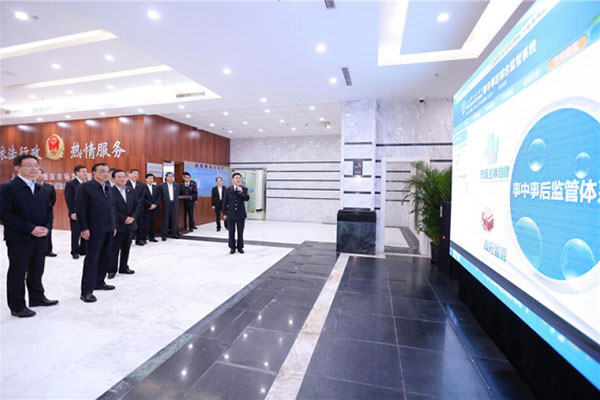 The Premier spoke highly of the efforts to monitor the supervision department through system construction, and said that in addition to trusting the staff we should have more faith in system. The market supervision bureau of the Shanghai Free Trade Zone built an online law enforcement platform by integrating functions of the four administrations of industry and commerce, quality supervision, food and drug, and price supervision and inspection.
Integration of Shanghai FTZ hotlines to maintain market fairness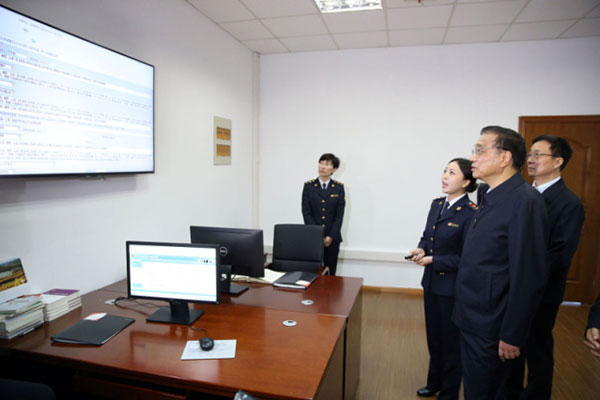 The Pudong New Area of Shanghai established the nation's first online supervision office in the Shanghai FTZ to integrate functions of information inquiry, online supervision, regulation on efficiency, and supervision league. Such a mechanism can supervise not only the efficiency of administrative approval but also the inspectors.
Online supervision office: monitoring supervisors
The market supervision bureau of the Shanghai Free Trade Zone integrated five complaint hotlines into one to bring conveniences for people and enterprises. The number of accepted complaints nearly tripled in three years. Premier Li said that such measures not only enhance the function of supervising the market but also safeguard fairness in the market. The fairer the market is, the more vigorous market entities are.
Human resource is the largest "gold mine" for China's development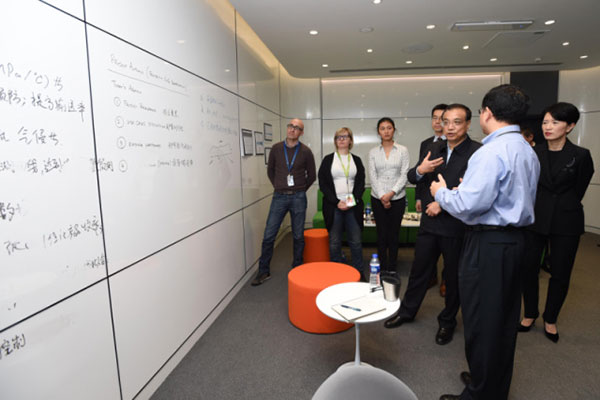 On Nov 21, 2016, Premier Li paid a visit to a GE China technology park in Shanghai FTZ, a hub with 5,000 Chinese and foreign staff.
He said that China has 170 million highly educated professionals. They are the biggest gold mine of the nation.
"China is still the best investment destination"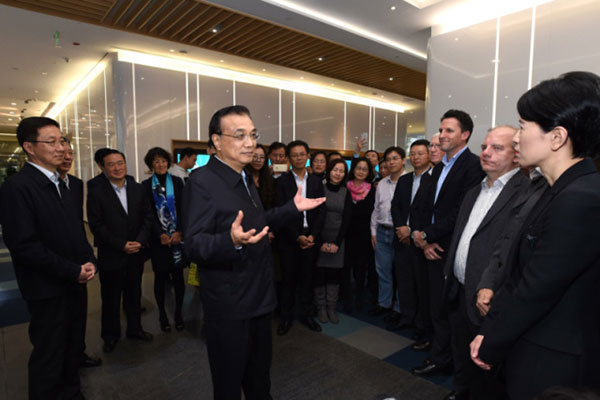 GE's choice indicates that China is still the best investment destination in the world, Premier Li said during a visit to GE China's headquarters and R&D headquarters in Shanghai on Nov 21.
The favorable policies and business environment attracted the leading transnational corporation to set up its Asia center and first outside-US digital innovation workshop in Shanghai.
Single trade window in Shanghai FTZ a new feature of China's import and export trade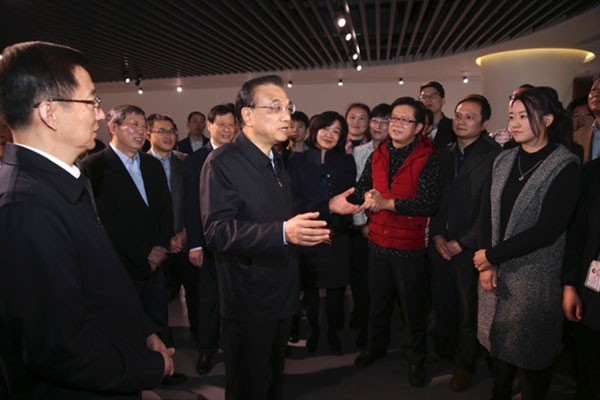 E&P International operates the Shanghai E-port platform and sets up the single window for foreign trade; its successes have spread across the country.
Amid a downturn in global import and export trade, your successes have created new highlights in our import and export trade, Premier Li said.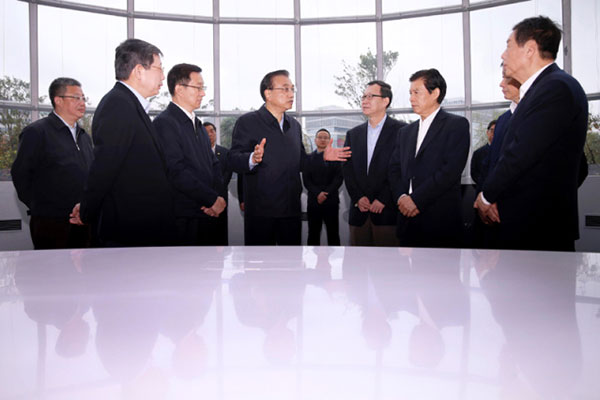 "Shanghai FTZ should become the pioneer in reform and opening up"
Since its establishment, the FTZ has not only made substantial steps in facilitating customs clearance and investment freedom but also tested over 100 reform measures and applied them across the country.
The Shanghai FTZ should act as the pioneer in opening up and deepening reforms, Premier Li said during an inspection of Shanghai E&P International on Nov 22.