The State Council has sent two inspection groups to Hebei and Jiangsu provinces to investigate any cheating in cutting steel overcapacity.
Premier Li Keqiang has called for rewarding local governments and enterprises that have done well in their efforts to cut overcapacity, and he urged severe punishment on any cheaters.
Cheating is done mainly through two ways: first, submit a report that includes data from operations that are already shut down, and second, fail to carry out efficient overcapacity reductions or disregard instructions from higher governments.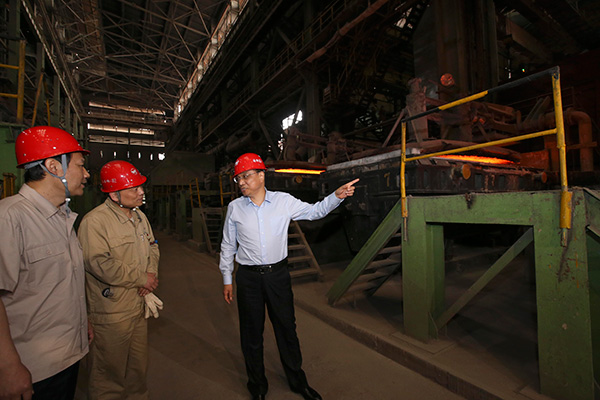 Premier Li makes an inspection tour of Wuhan Iron & Steel Group in Central China's Hubei province on May 23, 2016.
Curbing overcapacity directly determines the speed and efficiency of economic restructuring. In the process, relationships among administrative power, rule of law and market forces should be handled properly. Reducing excess capacity makes substantial adjustments for the market, and market measures should be used to improve industrial concentration and stabilize the relationship between supply and demand.
The joint inspection team, composed of 10 ministries and departments under the State Council, will not only check coal and steel overcapacity reduction efforts but also improve related monitoring and report channels to promote public awareness of illegal production of backward capacity.
China plans to cut 45 million tons of steel capacity this year, and the coal target is over 250 million tons. The country has reached this year's basic reduction goals for steel and coal capacity, according to a State Council statement on Nov 23.