Newly-added jobs in urban areas in November reached 810,000 in China, and from January to November, the country completed its annual employment target with 124.9 percentage points, data from the Ministry of Human Resources and Social Security (MOHRSS) showed.
The number shows that Premier Li Keqiang's saying of "employment is the basis of people's livelihood" has been taken seriously.
The improving employment trend is due to China's stable economic growth. Although this year's growth rate of gross domestic products slowed down compared with previous years, it stays between 6.5 percent and 7 percent, which is still extraordinary on a global scale.
The stable economic development directly reflects the increased job demand, and seen from the employment indicator, it can be guaranteed that China's economy has vitality.
Increased employment is also attributed to the transformation of Chinese economy. From investment-driven to consumption-led, from resource-intensive to the new economy that focuses on science and technology innovation and from government-guided to society-focused, the changes in Chinese market are positive and effective.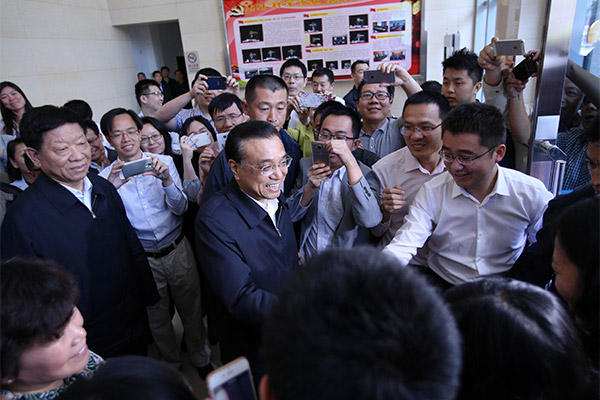 Premier Li Keqiang visits the Ministry of Human Resources and Social Security and discusses employment issues of migrant workers with staff, May 6, 2016.
These market changes bring more employment opportunities, such as new job positions in internet startups and micro enterprises. Vice-Governor of People's Bank of China Yi Gang said that consumption's contribution to the economic growth this year was more than 70 percent.
The economic diversity and activity and well-performing system guarantee China will enable the market changes to reallocate talent resources. Premier Li stressed many times that employment is the basis of people's livelihood, indicator of the economy and the stabilizer of society.
He also said that employment is a top task for local governments, and also the common responsibility of all departments.
The government has released many reform measures to boost employment, such as simplifying administrations and delegating powers, optimizing services, deepening the business registration reform and lowering the institutional transaction costs for enterprises.
New employment opportunities brought about by the changing economy will actually provide support for stable employment and add vigor to the transformation of Chinese economy.