State Council rules bring more benefits to disabled people
Updated:
Jan 12,2017 3:22 PM
english.gov.cn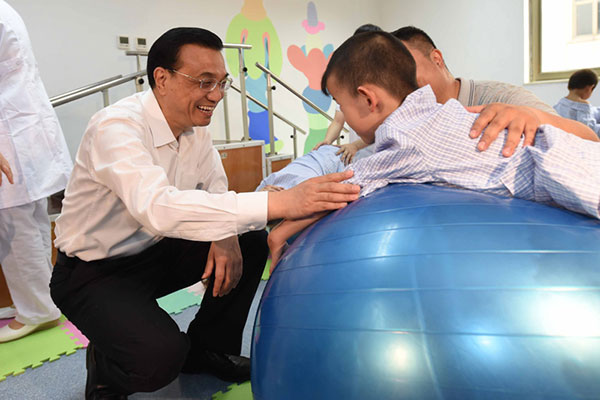 Premier Li Keqiang chats with a child who is receiving rehabilitation therapy when the Premier visits the Bayi Children's Hospital in Beijing, capital of China, May 30, 2014. [Photo/Xinhua]
The State Council executive meeting on Jan 11 adopted two rules aimed at ensuring care and education equality for China's 85 million people with disabilities.
The executive meeting marks a big step forward in government efforts to effectively protect the rights and interests of people with disabilities, with the two regulations, an amended draft of the Rules on Education for People with Disabilities and the draft Rules on Rehabilitation of People with Disabilities.
Premier Li Keqiang said at the meeting that the protection of and care for people with disabilities are a sign of civilization and progress. He also stressed that it represents a big move to promote fairness and justice.
The rule on education emphasizes efforts to ensure compulsory education for people with disabilities as well as expanding vocational education, especially the prevention of discrimination in school enrollment.
The rule on rehabilitation calls for increased investment from the government and society and better health services to meet the basic needs of rehabilitation.