Shantytown renovation was a major development project to improve people's lives, Premier Li Keqiang said in an instruction on Jan 16.
To ensure people are relocated to a better home, the Premier said the construction quality of the new houses should be checked, infrastructure facilities must be provided and the monetized resettlement could be increased.
In Ganzhou city, Jiangxi province, August 2016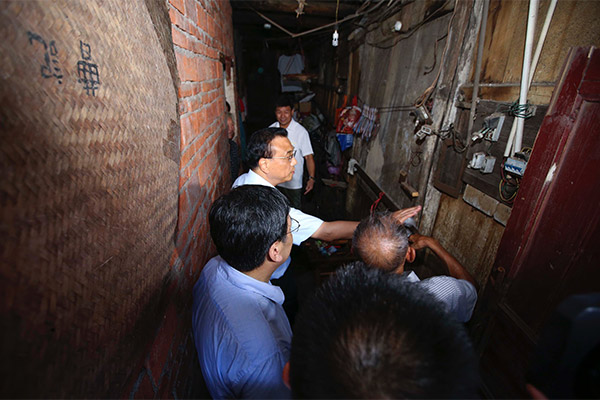 Premier Li visited an elderly man's house in the shantytowns of Ganzhou city, East China's Jiangxi province, on Aug 22, 2016.
Learning that his whole family had been living in the wooden shack for nearly 100 years, the Premier told a local official to make all-out efforts to help villagers in this area to relocate, even though it would be difficult and funds were limited.
In Taiyuan, Shanxi province, January 2016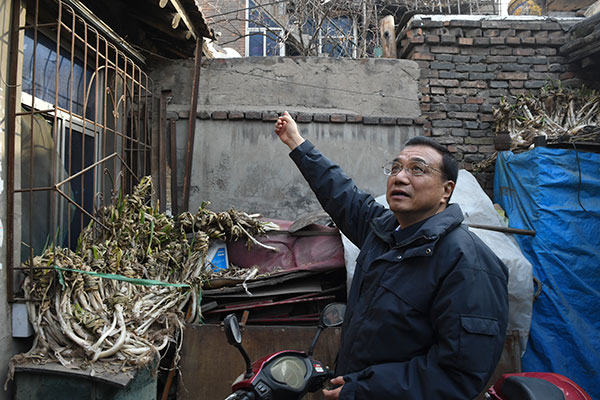 After inspecting a shantytown area in Taiyuan of North China's Shanxi province on Jan 4, 2016, Premier Li said that the government still shoulders heavy responsibilities. The Premier visited the dilapidated one-story house of an older woman in the Xiaobeiguan area and learned that there are more than 80 such areas in Taiyuan.
"I myself grew up in a shantytown area, so I know your hardship well," the Premier told the residents. He pledged to the residents that he would let them move into new homes as soon as possible.
State Council executive meeting on Jan 22, 2016
The meeting on Jan 22 decided to speed up the renovation of shantytowns and dilapidated buildings, and expand the renovation work to major towns in China.
The Premier said China still has 100 million people living in shantytown areas, and related departments should identify them with advanced new technologies and find more potential for implementation of the new-type urbanization.
National video conference on shantytown renovation, Oct 10, 2015
Premier Li Keqiang urged governments at all levels to attach great importance to renovation of shantytowns as a measure to improve people's lives.
Efforts must be stepped up to give more financial and taxation support for the rebuilding project and encourage private investment in the project, and quality must be ensured and goals must be achieved as scheduled to improve urbanization and promote economic development, Premier Li said in an instruction on Oct 10, 2015.
April 24, 2015, Fuzhou, Fujian
Premier Li was delighted to see a family he visited seven years ago moved into a new house. He then urged that more efforts should be made in renovating shantytowns.
April 17, 2015, China Development Bank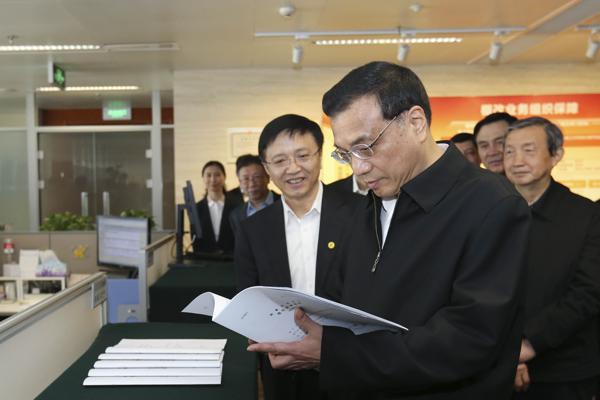 During a visit to the finance division of China Development Bank, Premier Li said more financial support should be extended to the 200,000 households in Heilongjiang and Jilin provinces who live in areas affected by soil subsidence.
He encouraged them to visit these places to understand the situation of those who live in shantytowns.
The finance division, set up a year ago, provides support for the rebuilding of shantytowns.
March 9, 2015, National People's Congress (NPC)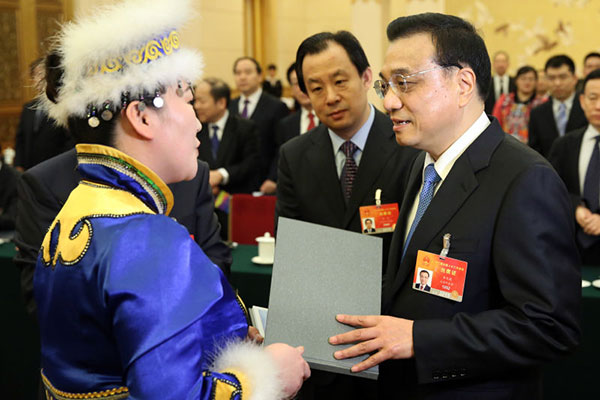 Renovation work in shantytowns located in areas hit by mining subsidence must be done within this term of government, Premier Li said during a meeting on March 9 with the National People's Congress (NPC) deputies from Heilongjiang province to review the government work report.
"The heads of the National Development and Reform Commission, the Ministry of Finance and the Ministry of Housing and Urban-Rural Development are here with us today," Premier Li said at the meeting. "And I have an urgent task for you: The problem of shantytown renovation in mining subsidence areas must be solved within the term of this government."
Shantytowns in other mining subsidence areas will also be transformed within the span of this term of government, Premier Li promised, before asking provincial and municipal leaders to ensure the commitment is met.
Feb 14, 2015, Guiyang, Guizhou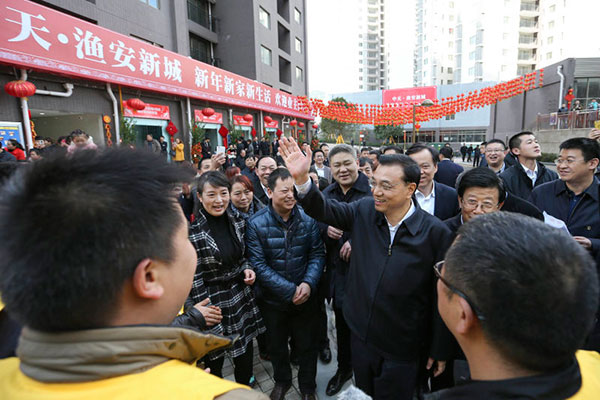 Premier Li posted the Chinese character "fu"- which means "good fortune" - on the gate of a newly built residential community in Guiyang, capital of Southwest China's Guizhou province, on Feb 14, 2015.
The community was built to accommodate residents relocated from shantytowns, and Premier Li asked the management to make sure that the community provides a comfortable and convenient living environment for residents.
Shantytown renovation is not just building new houses but also creating a livable environment, Premier Li said in the rebuilt shantytown.
March 27, 2014, Chifeng, Inner Mongolia autonomous region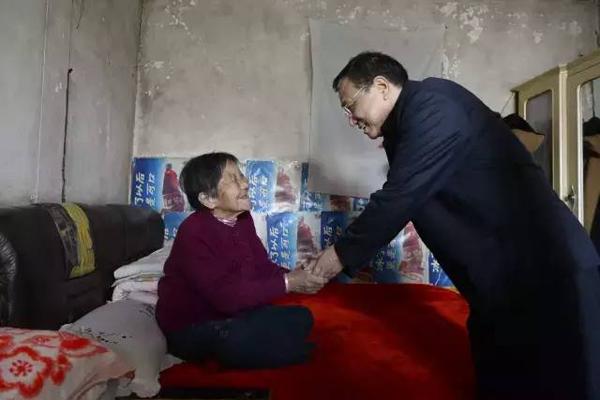 Premier Li visited the home of a shantytown resident in Chifeng, Inner Mongolia autonomous region, March 27, 2014. He said the government will further renovate shantytowns and move residents to high-rise buildings as soon as possible.
"You have our promise to move into new houses, and I will visit your new homes next time I come here," Premier Li said to the shantytown residents of the city.
Dec 27, 2013, Hongqiao district, Tianjin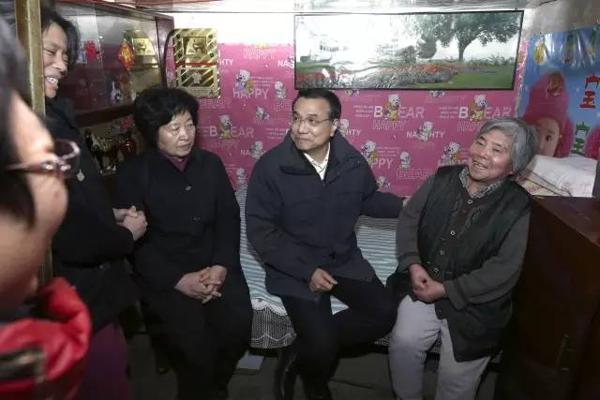 Premier Li visited the home of Li Zhongyi in Xiyuzhuang, Tianjin, Dec 27, 2013. As there was little room in her home, he sat on her bed, where he asked about local people's living conditions, later visiting other inhabitants.
He told the 77-year-old that the government will ensure that she will move into a house with a kitchen, a bathroom and heating system.
"Please send me some photos that show people's lives in their new houses," said the Premier. He also asked the local government to make sure that shantytown residents can move into their new houses next year.
March 17, 2013, Great Hall of the People, Beijing
The government decided to renovate all kinds of shantytowns in China, where more than 10 million families dwell, said the Premier at the press conference of the two sessions in 2013, adding that the efforts will not only break the dual structure of urban economy and rural economy within the city but also lower the threshold for urbanization.