To create a fair market environment, the government should attach more attention to oversight, and related departments should not only focus on how to approve projects, but also on how to oversee them, Premier Li Keqiang said while meeting with National People's Congress deputies from Guangxi Zhuang autonomous region on March 8.
He said the oversight is also part of reforms, and the government should learn how to delegate to the market, so that they can better handle their obligations.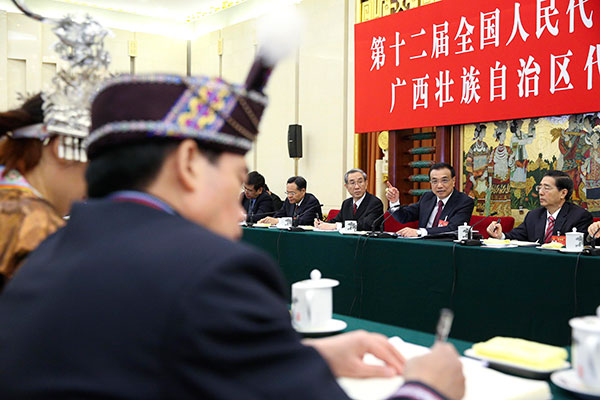 Last year, the government investigated and punished an illegal steel plant, which had a greater impact than approving a steel project, said Premier Li.
According to Chang Yanping, president of Guangxi Yuchai Machinery Group, thanks to VAT reform, their company saved 70 million yuan in taxes and 15 million yuan in fees concerning social insurance and housing funds.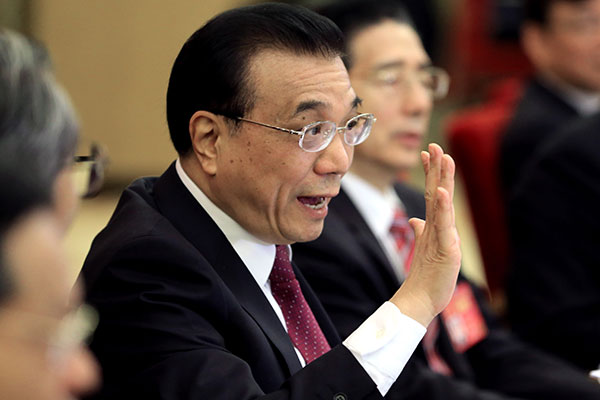 The news delighted Premier Li, who said such good examples should spread wide, as it could boost confidence in domestic and overseas investors, and encourage the government to release more preferential policies.
Some deputies suggested that "ethnic border areas" be added to the part in the government work report concerning the poverty alleviation campaign.
The Premier agreed, explaining that there is a special section involving work with ethnic groups. "Now I think it should be reiterated in the poverty alleviation section, because it is an important task."
When some deputies complained that bureaucracy often holds back projects, the Premier said administrative streamlining should be carried out in a better way to clarify responsibilities of different departments, cut red tape, and root out entrenched interests.
It is not easy to reduce administrative fees on enterprises and charges from monopolies, said the Premier.
"The process is tough, but the government will carry on the reform at all costs, as it is the call of the people and the market," he said.
Deputy Zhou Hongbo said that his village now has road facilities and clean water supply after Premier Li's inspection four years ago.
In 2013, the Premier visited the village and took two peanuts with him before leaving. He said the peanuts represented villagers' hope for roads and water facilities, and he would work with local leaders to solve that problem.
"What Guangxi impresses me most is not only its beautiful scenery, but also its fast economic development, which has gained great momentum in recent years," said Premier Li.
According to a brief introduction from the delegates, the region spent 62 years to reach 1 trillion yuan in GDP, whereas it only took it another six years to get the number doubled.
Premier Li emphasized that pursuing development is the key to tackling any obstacles.
The Premier extended greetings to women on the International Women's Day, which was marked across the world on March 8.
He said Liu Sanjie, a folk character from Guangxi famous for her beautiful singing, represents females.
The Premier also extended his best wishes to women of all ethnic groups in China.