Free trade is the main theme of Premier Li Keqiang's visit in New Zealand, and one of the targets of the Premier's visit is to upgrade the free trade agreement between China and New Zealand.
This visit witnessed many achievements, among which the most prominent is the upcoming negotiation on upgrading the free trade agreement (FTA).
China-New Zealand free trade agreement is the highest-level agreement between China and developed economies, according to the Premier at a press conference with New Zealand Prime Minister Bill English.
The joint efforts to upgrade free trade between the two countries send a clear signal that expanding free trade is the fundamental solution to promote trade balance.
Free trade upgrading will cover many more sectors, such as service, investment, and e-commerce, which will bring more business opportunities and promote bilateral trade to a higher level.
There are signs of trade protectionism and pushing back against globalization in the current world economy.
Premier Li's visit to New Zealand sends a strong signal to maintain free trade as the world is becoming a community of shared interests in which each member can make a choice.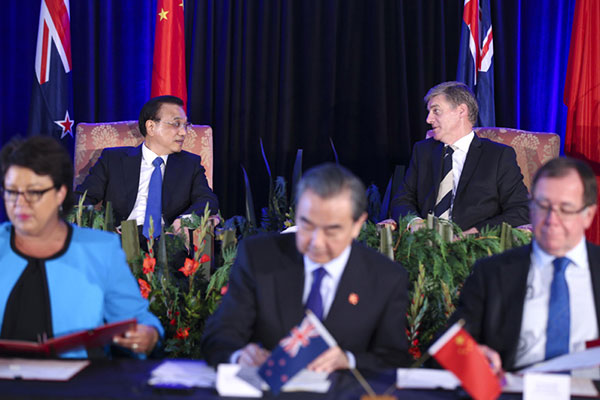 Premier Li and Prime Minister English witness the signing of agreements in sectors such as trade, agriculture, and e-commerce, in Wellington, March 27, 2017.
New Zealand is the first Western developed country to sign a free trade agreement with China.
In the eight years since the implementation of the free trade agreement, bilateral trade almost tripled, with a 13 percent increase each year.
More surprising is that amid a weak global economy, trade between China and New Zealand continued to increase in 2016, with a 3.4 percent growth year on year.
Behind all these developments are the benefits for people in both countries.
In China, people can have more high-quality agricultural products from New Zealand on their tables.
In addition, New Zealand, known as the world's "oxygen bar", has become a travel destination for more Chinese visitors.
During Premier Li's visit, China and New Zealand announced launching negotiations on upgrading the free trade agreement, which created another "first" between China and a Western developed country.
Among the list of Premier Li's achievements during his visit, the top one is the first round of negotiations, which will be held in Beijing next month.
According to Premier Li's view on free trade, domestic consumers can have more choices through further opening up, which will in turn force quality improvements in China's industrial and agricultural products. Furthermore, trade upgrading will see more exchanges among people of the two countries.
New Zealand will offer convenience for Chinese citizens in visa applications, with five-year visas for Chinese tourists.
In fact, China has "double deficits" in trade and investment against New Zealand. But China still decided to further open up the bilateral market, a move to protect free trade.
Trade balance can only be reached through expanding free trade, not closing doors, Premier Li stressed many times during his visits to Australia and New Zealand.
Amid the current trend of protectionism and pushing back against globalization, the negotiations on upgrading the free trade agreement is the most practical action to protect free trade.