Premier Li Keqiang stressed the significance of improving labor skills during a meeting with two leaders of WorldSkills, an international organization that promotes vocational education and training, in Beijing on April 7.
WorldSkills President Simon Bartley and CEO David Hoey came to China to review Shanghai's bid for the 46th WorldSkills Competition.
"The WorldSkills Competition is the 'Olympics' of its kind," Premier Li said in an opening remark.
"I think everyone will agree with you except the International Olympic Committee," Bartley said.
"I will tell the IOC leaders next time when I meet with them," Premier Li said, lightening up the meeting's atmosphere.
He then added that human beings need not only Olympic competition in sports but also in skills, so that people can enjoy both high-level sport competitions and all kinds of interesting skills competitions. Only with the unprecedented improvement of all kinds of skills can consumers be provided with more and better commodities and services.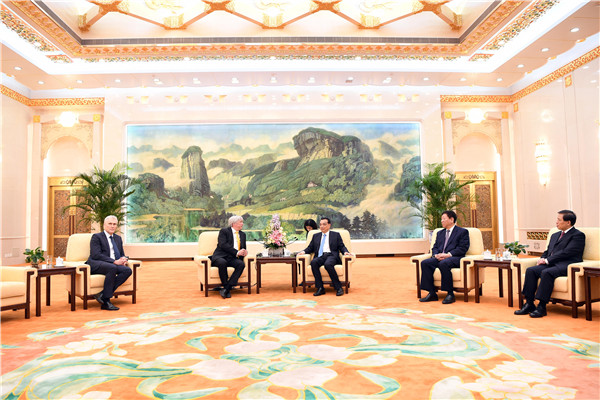 Premier Li Keqiang meets with WorldSkills President Simon Bartley and CEO David Hoey in Beijing on April 7. [Photo/China News Service]
In October 2016 Shanghai officially announced its bid for the 46th WorldSkills Competition in 2021.
Premier Li said that the Chinese government will fully support Shanghai's bid and that China will take the bid as an opportunity to host all kinds of skills competitions for the nation's workers during preparation for the bid in the coming five years.
"If the WorldSkills Competition can be held in Shanghai, the preparation for it will attract hundreds of millions of Chinese workers to participate in activities that can improve their skills," he said.
The Premier also told Bartley that China is making efforts to promote its economy to a medium-to-high level and it will take the improvement of workers' skills to increase product quality during such a process, thus advancing stable economic upgrades.
"China is making huge efforts to promote craftsmanship, which aims to improve skills and make our products and services more exquisite and satisfactory to consumers," he said.
Bartley agreed with the Premier's comments and said that Shanghai left a brilliant impression on him during a visit to the city.
"I will guarantee that the competition of the bids this time is absolutely fair," Bartley said.
Shanghai has hosted many international competitions in recent years. It is also the birthplace of modern industries in China. The average level of skills and talent in China are among the top in the country. It is hoped that Shanghai's hosting of such an event will have an impact across the country, the Premier said.
"No matter the result of the bid, the Chinese government will always make efforts to improve Chinese workers' skills as they are essential and key to the development of China's economy," he said.