Premier Li Keqiang met with a United States congress delegation in Beijing on April 10 and discussed issues concerning China-US relations with delegation members.
The visit of four federal senators and two members of the house of representatives, comes just days after the meeting between Chinese and US presidents in Florida.
The move shows that the US congress values China-US relations and it is hoped delegation members can play active roles in promoting the stable and healthy development of bilateral relations, Premier Li said.
The meeting between President Xi and President Trump was successful reaching consensus on a series of issues and setting the tone for continuing development of China-US relations, according to the Premier.
"China and the US are the world's largest developing and developed countries. The bilateral relations are very significant to both sides and the world," he said.
Maintain post-war world order
Senator for Montana Steve Daines, who is leading the delegation, said China's GDP was only about $500 billion when he first came to China in 1992. He said it was an amazing achievement that 25 years later, it had exceeded $11 trillion.
"China is still the largest developing country in the world. Although China's economy has made the breakthrough to $11 trillion, we have a 1.3 billion plus population. So, China is still at a medium-to-low position in the world in terms of the GDP per capita," Premier Li said.
When asked about avoiding a conflict between rising and established powers, Premier Li said China still has a long way to go towards modernization.
He then stated that the international system, based on the framework of the United Nations after the two world wars, had proven to be effective as it had maintained world peace for more than 70 years, showing that human beings have the wisdom to prevent large-scale conflicts.
"If we can continue to keep the post-war order, promote free and fair trade and maintain the nuclear non-proliferation mechanism, major conflicts can be avoided and long-term peace can be realized," the Premier said.
He also admitted that the post-war order is not perfect, and stressed that it takes effort from all nations to improve the international governance system.
"We should believe in humanity's wisdom and rationality. I'm optimistic about that," he said.
Two US congressmen brought up the North Korea nuclear issue and asked how China and the US should respond.
Premier Li said that China always insists on a nuclear-free and peaceful Korean Peninsula, and is committed to solving the issue through dialogue.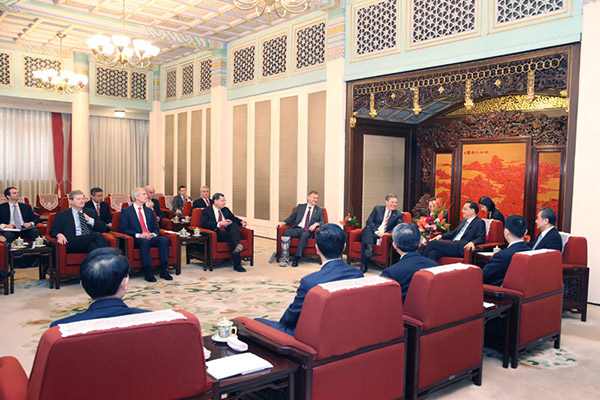 Beef and chicken trade between the two countries
Wearing a cow badge Senator Daines said that each person in Montana has an average of three cows and he hopes that China can lift the ban on US beef.
The Premier said China is willing to import quality and healthy US beef, which will give Chinese consumers more choices.
He added that China's chicken is competitive in the world market, and hoped the US can also lift the ban on Chinese chicken, which can better showcase fair trade.
Excessive production and global quantitative easing
An American representative asked Premier Li about the influence of excessive production on global industries.
Premier Li said excessive production capacity is caused by a large investment in basic industries by all nations after the international financial crisis, a problem that should be addressed by all parties.
According to the Premier, 90 percent of China's steel is sold in the domestic market and only 10 percent is exported. Meanwhile, China also imported a large amount of high-end steel products.
Therefore, opinions about China's steel dumping are exaggerated, the Premier said.
Trade imbalance between the two nations
On issues about the trade imbalance between China and the US, Premier Li said both nations should expand trade to narrow the gap. It is also the way to offer more choices to Chinese consumers and drive upgrade of related domestic industries.
Premier Li said the Chinese government will continue to cut tariffs to welcome more competitive products into the nation, and hoped the US could ease export restrictions on high-tech products to China.
This is conducive to narrowing the trade imbalance between the two nations, he said.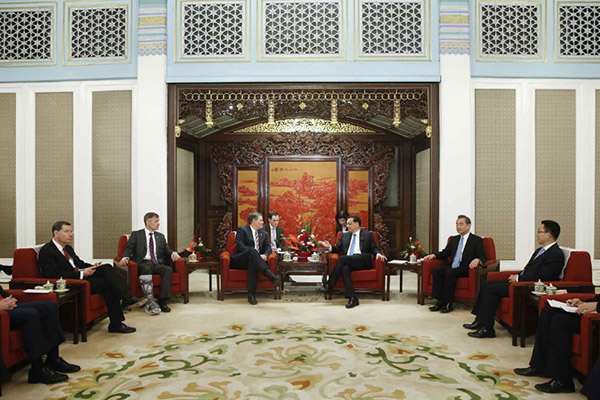 China's opening up
China will continue to open up and improve its trade environment, Premier Li said in response to some US enterprises' opinions about China's restrictions on foreign investment.
Premier Li said China has honored its World Trade Organization commitments, and some new problems needed work from both sides.
In general, the Premier said investment from the US to China is increasing with bilateral investment volume exceeding $170 billion.
He said China and the US should strengthen communication and promote bilateral opening up which is why China proposed negotiation on the Bilateral Investment Treaty.
The Premier said both sides were happy about the successful meeting between the top leaders, and hoped there would be more exchanges at all levels.