More effort should be made to transform the driving forces behind the economy and social development, Premier Li Keqiang stressed during a visit to Shandong province.
Accompanied by Shandong's provincial leaders, Premier Li visited Weihai and Jinan cities.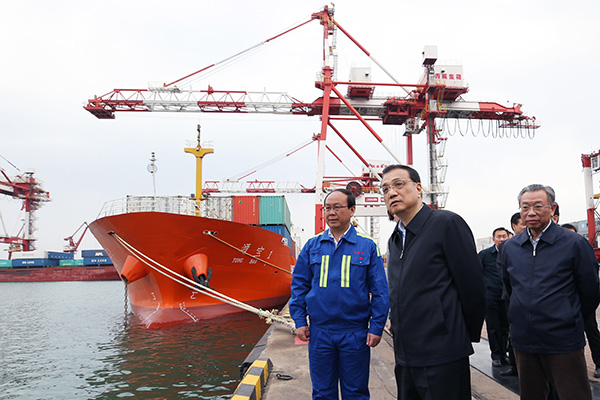 At the Weihai port, the Premier was briefed about the development of the port and the import and export growth in recent years.
As a large trading country, China should insist on opening up, and Weihai port should learn from other countries to strengthen port management, help mid-west regions and small-and-micro businesses to expand into the international market, he said.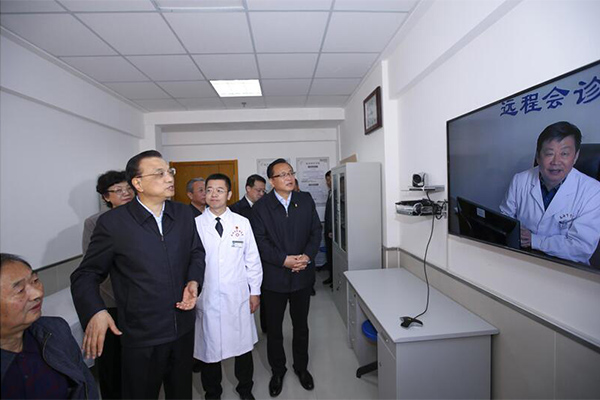 Premier Li also visited Sunjiatuan Hospital in Weihai, a community hospital that formed an alliance with Weihai City Chinese Medicine Hospital.
A patient at the hospital told Premier Li that it used to take half a day to go to the urban hospitals 20 kilometers away, but now people can seek treatment near their homes.
Premier Li was glad to hear such development, saying that the medical alliance model is a major policy measure impacting people's lives.
Chinese medicine is based on the belief that a person will no longer feel discomfort if their meridians flow smoothly.
"We should make efforts to break through the barriers and make high-quality medical resources flow, to seek better treatment for patients by means of medical alliances," the Premier said.
Premier Li also visited people at the hospital's elderly care room and said that efforts should be made to promote integration between hospitals and elder care institutions so that older people can enjoy comfortable and healthy lives.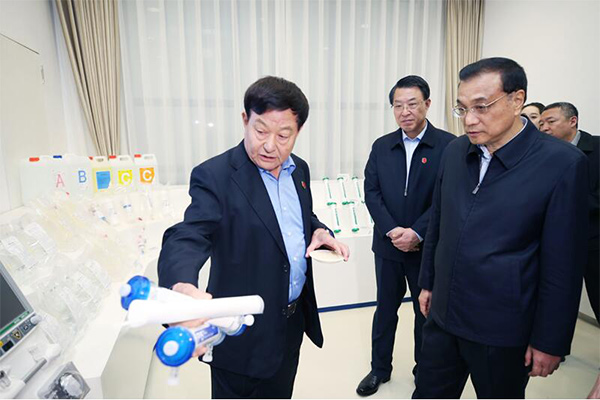 At Wego Group, a medical equipment manufacturer based in Weihai city, Premier Li told the company's leaders that they should take the opportunity of the Made in China 2025 initiative and promote mass entrepreneurship and innovation and the spirit of craftsmanship, making more high-tech and high value-added products.
He also told the company's researchers that the target of development is to make people live a happy life. The demand from the healthcare industry is huge and more high-quality and low-price medical products are expected to benefit people.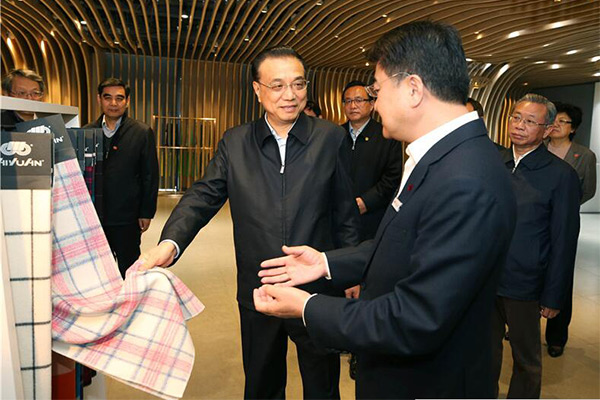 At clothing company Dishang Group, the Premier said that China is at a crucial period where new economic driving forces are replacing old ones. New technologies and business models are keys to promote the traditional garment industry. Efforts should be made in innovation to promote product quality, he said.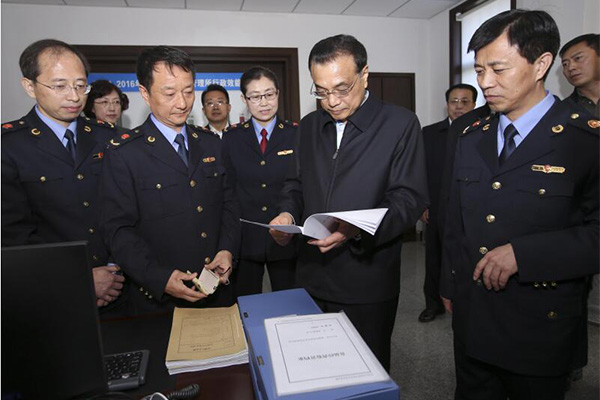 At a market supervision bureau in Weihai, the Premier urged more effort on promoting "Internet-plus administrative services". He said more convenience should be provided to the people, and supervision on such reform should be enhanced to maintain a fair market order.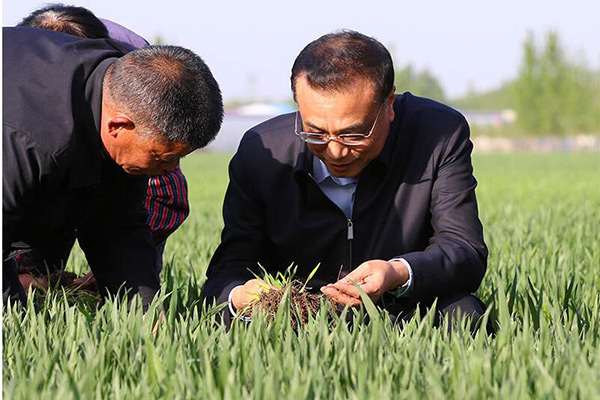 During his visit, the Premier also visited farms, inspecting a wheat field and discussing grain prices and a farmer's income.
To develop modern agriculture and increase farmer's income, efforts should be made to adjust the structure of the industry, improve crop breeds, promote contract farming, and boost meticulous agricultural production. The government should also improve relevant policies and protect farmers' interests, the Premier said.
Agriculture can be developed through integration with industry, he added.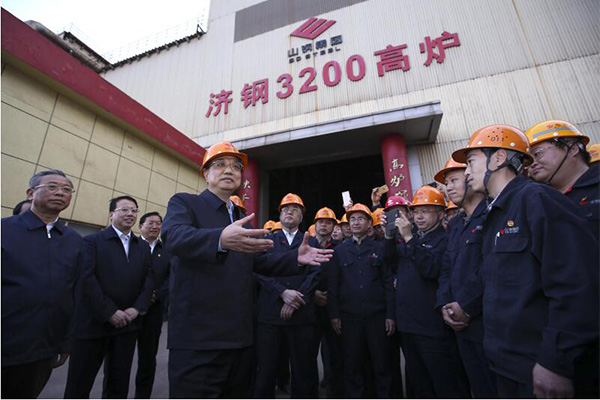 The Premier listened to a report on cutting overcapacity in Shandong province when visiting Jinan Iron & Steel Group. He told the staff that the country will remember their contribution to national construction, but some sacrifice has to be made in resolving excessive capacity. Premier Li called on both central and local governments to work together to ensure re-employment of laid-off workers.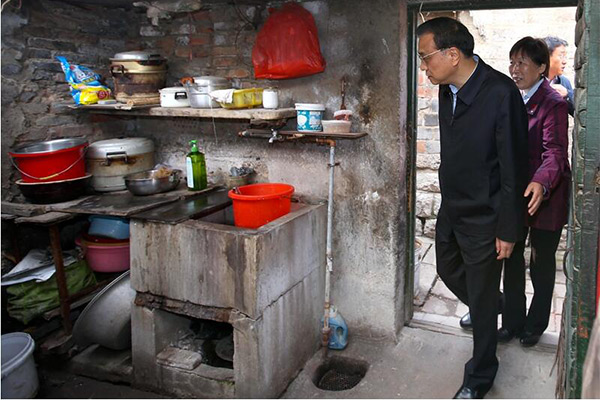 On the third day of his inspection of Shandong, Premier Li visited a shantytown area in Jinan, the provincial capital. Due to the lack of basic public facilities such as heating, the residents have to cover themselves with three or four quilts to bear the winter cold. Learning that, the Premier urged efforts to accelerate the rebuilding of shantytowns to move the residents to new houses. Shantytown renovation is an important way to advance new-type urbanization, and also to help build a healthy and stable real estate market, Premier Li told local officials.
During his visit to Shandong University, Premier Li listened to an introduction on the university's history and key subjects such as crystal materials, and watched an exhibition on the university's innovation and entrepreneurship. When visiting the editorial office of Journal of Chinese Humanities, a famous Chinese journal published by Shandong University, the Premier affirmed its efforts in collecting Chinese literature from around the world, and encouraged the staff to shoulder more responsibilities in inheriting good traditional culture. The Premier also talked with graduates who were seeking jobs at a job fair on campus. He encouraged them to actively take part in social activities and improve their overall ability to contribute to the country.
Premier Li affirmed Shandong province's achievements in economic and social development. He hoped that under the leadership of the CPC Central Committee with President Xi Jinping as the core, Shandong will implement the new development concept, replace old growth drivers with new ones, and actively explore solutions to key problems concerning people's lives, to keep the momentum of the national economy going.