Premier Li Keqiang on May 13 met with Lao President Bounnhang Vorachit, who is in Beijing to attend the Belt and Road Forum for International Cooperation scheduled for May 14 to 15.
The Premier said that China and Laos have a long friendship, and saw rapid development of bilateral relations.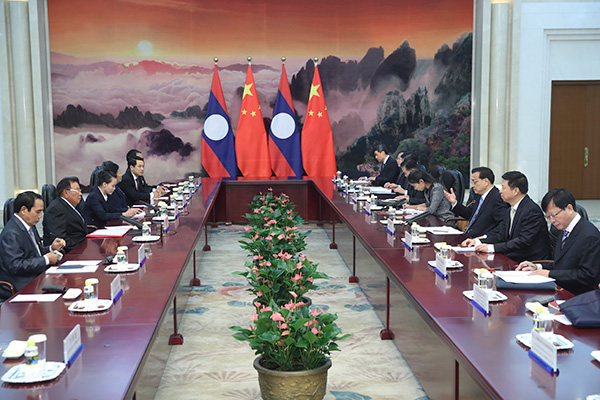 China is willing to link the Belt and Road Initiative with Laos' efforts to turn from a "land-locked" country to a "land-linked" one, guarantee the smooth development of China-Laos railway projects and the establishment of border economic cooperation zone, improve cooperation in infrastructure construction, resources exploration, agriculture and electricity, Premier Li said.
He also said the two countries should strengthen communication under the cooperative frameworks of China-ASEAN and Lancang-Mekong to better benefit people in both countries.
Bounnhang said China and Laos are countries with a shared future, and his country is glad to see China's reform and opening-up and its huge economic and social achievements.
He appreciated China's important role in regional and international affairs, and is ready to enhance bilateral high-level contacts, deepen cooperation in economy and trade, investment and infrastructure, speed up the China-Laos railway construction and promote economic and social development.