Premier Li Keqiang on May 14 met with Russian President Vladimir Putin, who is in Beijing to attend the Belt and Road Forum for International Cooperation.
During the meeting, Premier Li said the comprehensive strategic partnership between China and Russia continuously maintains a high-level development and noted that President Xi Jinping held a fruitful meeting with Putin and more new consensuses have been reached.
China is willing to deepen cooperation with Russia in such fields as finance, regional development, agriculture, energy and civil aviation, the Premier said.
Meanwhile, efforts should also be made to exert complementary advantages and explore cooperation potential, Premier Li added.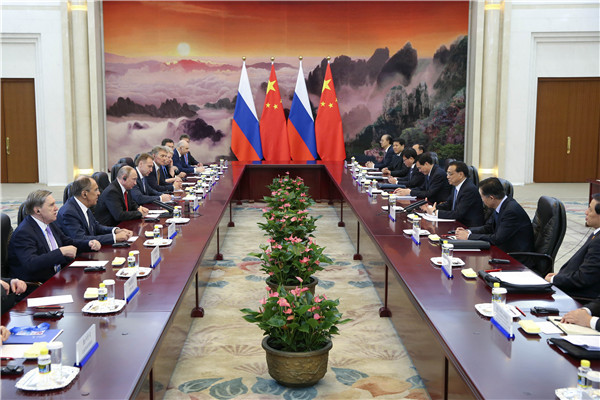 A new cooperation pattern featuring driving forces of major projects and small- and medium-sized enterprises should be built and people-to-people and cultural exchanges should be strengthened, in efforts to achieve more cooperation results between the nations, Premier Li said.
China is willing to cooperate with Russia to link up China's Belt and Road initiative with the Eurasian Economic Union, which aims to inject new drivers into prosperous development of the Eurasian region, stable growth of the global economy and establishment of an open and inclusive economic structure, Premier Li said.
Putin said the relationship between Russia and China has witnessed rapid development, the cooperation mechanism is running smoothly and bilateral trade and investment shows a positive trend, with great efforts from both countries' leaders.
Russia is willing to implement bilateral cooperation consensuses, promote major project cooperation on energy, transportation and aerospace, and expand people-to-people and cultural exchanges in education, sports, media, and regional development, to enhance the all-round development of Russian-Sino ties and cooperation.
State Councilor Yang Jing also attended the meeting.