Premier Li Keqiang met with International Monetary Fund (IMF) Managing Director Christine Lagarde in Beijing on May 14, agreeing to strengthen coordination and cooperation.
Lagarde is in Beijing for the Belt and Road Forum for International Cooperation on May 14 and 15.
Premier Li first said he appreciated the IMF's attention and support for China's economic development and transformation. He said China is willing to strengthen policy communications and coordination with the IMF and other international organizations, push forward economic globalization, trade and investment liberalization and facilitation, as well as multilateral cooperation, so as to promote the stable development of a global economy.
Premier Li noted that the Chinese government will continue to implement prudent monetary policies, and pay high attention to controlling financial risks to maintain economic growth while ensuring financial stability.
China is capable of maintaining the stability of its financial market and preventing regional, systematic financial risks, the Premier said. And China will continue to implement a managed floating exchange rate system based on market supply and demand to maintain stable exchange rates of renminbi.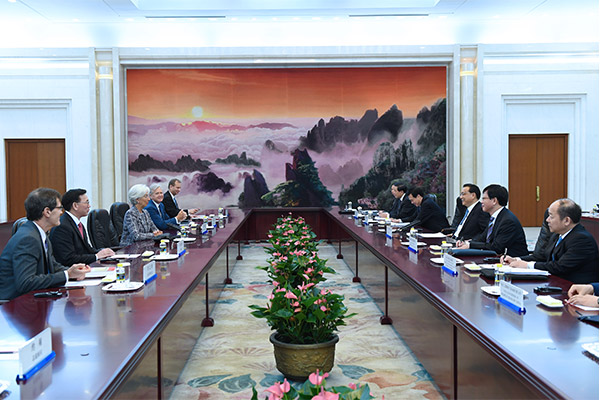 Lagarde said China's economic growth shows an encouraging momentum, which has provided strong support to international economic cooperation and the multilateral trade system.
The IMF is glad to see that China's financial system has a solid foundation and is under prudent and efficient supervision, Lagarde said. And the IMF is willing to continue to enhance communication and cooperation with China, she added.
State Councilor Yang Jing also attended the meeting.