Premier Li Keqiang on May 14 met with Kazakh President Nursultan Nazarbayev, who came to Beijing to attend the Belt and Road Forum for International Cooperation.
Premier Li said China and Kazakhstan are important neighbors, and he believes that new important consensus will be reached after President Xi Jinping's meeting with Nazarbayev, which is expected to push forward the further development of China-Kazakhstan relations.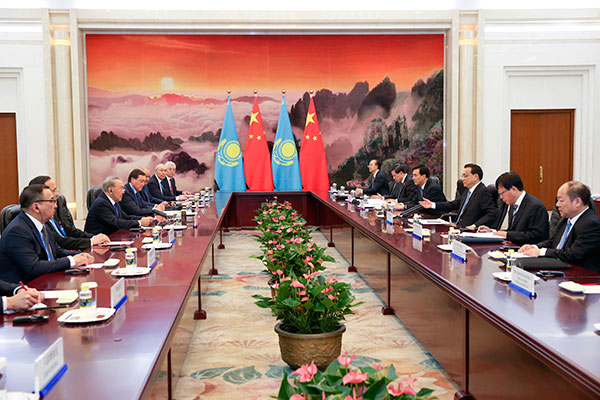 "China attaches great importance to the development of bilateral relations, and is willing to better connect the development strategy of the Belt and Road Initiative proposed by China with Kazakhstan's Bright Road program. Efforts will be made in promoting the production capacity cooperation, developing cross-border transportation, and expanding cooperation between the small and medium-sized enterprises of the two countries", the Premier said.
The two countries also will conduct cross-border economic, trade and financial cooperation, and strengthen people-to-people and cultural exchanges, the Premier said, adding that China supports Kazakhstan in successfully hosting the Astana World Expo 2017.
Nazarbayev said Kazakhstan and China enjoy solid political mutual trust, and pragmatic cooperation, which can be regarded as a model of relations between countries. The connection of Kazakhstan's Bright Road program and the Belt and Road Initiative proposed by China has reaped remarkable achievements.
"The production capacity cooperation between the two countries is key to promoting Kazakhstan's industrialization, and the Kazakhstan side hopes to include more programs into the framework of production capacity cooperation, strengthen cooperation in transportation infrastructure, nuclear energy and deep processing of agricultural products", Nazarbayev said.
He also stressed that Kazakhstan attaches great importance to China's Year of Tourism 2017 and supports the activities to be held at the China pavilion at Astana Expo 2017.