Premier Li Keqiang on May 15 met with UK's Chancellor of the Exchequer Philip Hammond, personal envoy of Prime Minister Theresa May, who came to Beijing for the Belt and Road Forum for International Cooperation from May 14 to 15.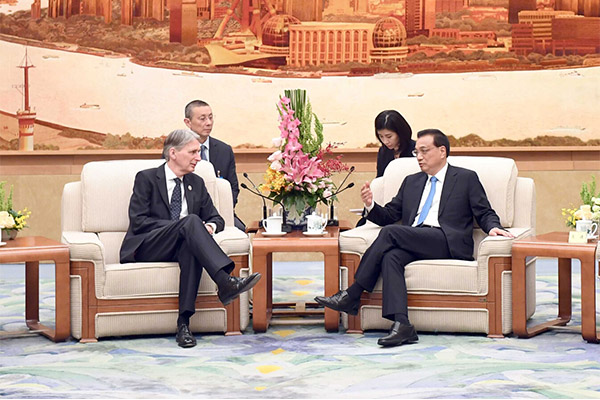 The Premier said China pays great attention to China-UK relations, and as permanent members of the United Nations Security Council, the two countries' enhanced bilateral cooperation and coordination in international affairs are important not only for both nations but also for the region and the world.
China is willing to work with UK to consolidate mutual trust, implement cooperation in key areas such as nuclear power and finance, develop new highlights for more cooperation to promote the bilateral relations and cooperation to a new stage, said Premier Li.
He also added that China and UK should join hands to release signals that both countries are dedicated to stability, opening-up and prosperity by promoting a free and convenient trade and investment.
Hammond delivered a signed letter from May to Premier Li, saying that UK is devoted to developing an all-around strategic partnership between the two countries.
UK is willing to maintain high-level contacts, further advance bilateral investment and trade, and strengthen communication in international affairs with China, according to Hammond.