Premier Li Keqiang met on May 15 with UN Secretary-General Antonio Guterres, who was in Beijing to attend the Belt and Road Forum for International Cooperation.
As a founding member of the United Nations and a permanent UN Security Council member, China staunchly safeguards the purposes and principles of the UN Charter, firmly supporting authorities of the UN and UN Security Council and its key role in safeguarding world peace and security, as well as promoting development, said the Premier.
China hopes to play a responsible role through platforms such as the UN and make relentless efforts in implementing the 2030 Agenda for Sustainable Development and boosting world peace, stability and development.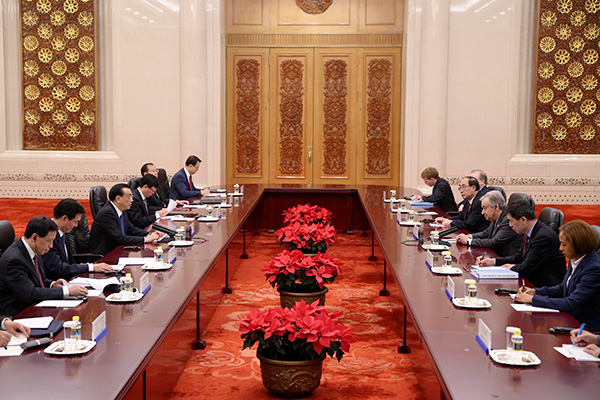 Premier Li said that peace, development and cooperation have been the consensus of mankind, and globalization is an irreversible trend, adding that issues in globalization must be solved in the development process.
He said China supports globalization, trade and investment liberalization and facilitation, and believed that humans have intelligence and all countries have the ability to push globalization on to a path that is a more open, inclusive, shared and mutually beneficial.
Guterres said China is an important pillar for promoting multilateralism, free trade and globalization, and it has given great support for all of UN's work, including its peacekeeping operations.
UN will strengthen cooperation with China to better link the 2030 sustainable development agenda with China's development strategy and initiatives, advancing world peace and stability through sustainable development, said Guterres.